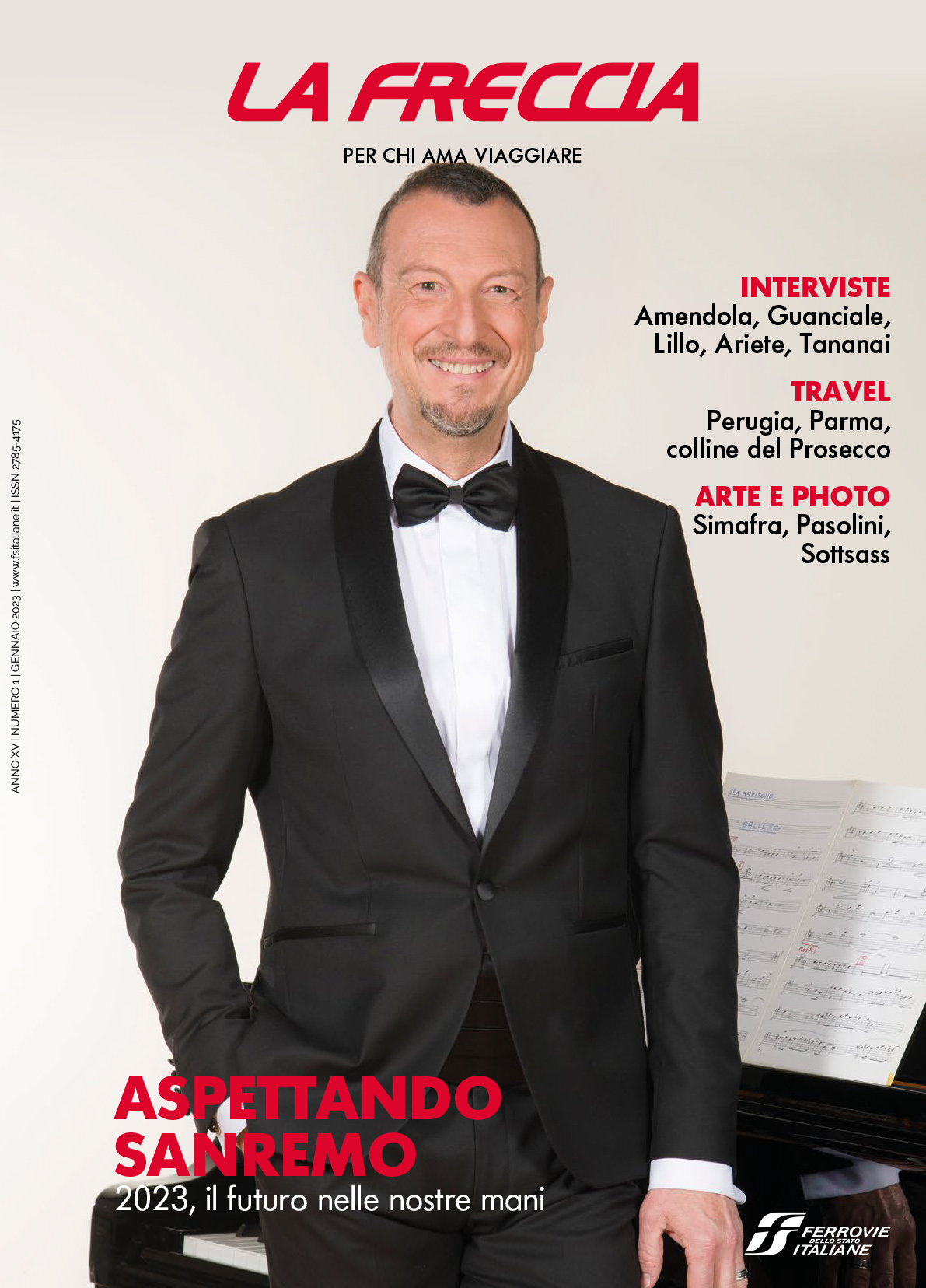 Rome, 2 January 2023
January's La Freccia greets 2023 with well-wishes and an invitation to build the new year and the future together, stepping out of the microcosm of the self and into the universe of the we – each with our own baggage of stories, emotions and goals to share and recount. To grow and travel, physically and metaphorically, expanding our human contacts and knowledge.
The cover features Amadeus, Host and Artistic Director of the Sanremo Italian Song Festival who, by betting on youth and the future, has profoundly renewed Italy's best-loved and most-watched event. Representatives of the new generation of artists in this year's competition are Ariete, a 20-year-old indie singer-songwriter amongst the most intriguing of the times, along with Tananai, a phenomenon launched by last year's festival – both interviewed by La Freccia.
This month's journey begins in verdant Umbria to discover the essence of Perugia – Lonely Planet's destination city of 2023 – which has the scent of chocolate but tastes of art (marking the 500th anniversary of Perugino's death) and sounds like music, marking the half-century of Umbria Jazz. We continue on to Parma where, as we lift our gaze, we discover architecture that reveals its contemporary face. Then, it is off to travel the route of the Veneto hills where Prosecco, the world-renowned Italian wine par excellence, is produced. Another stop is Campobasso – in the midst of castles, villages, nature and craft activities striving to survive the crisis – to then arrive on this early-year journey in Centuripe, Sicily, to discover the village that, seen from above, is shaped like a man sprawled out on the ground.
Space is then given to culture with an excursus on the Baroque basilicas of 17th-century Rome, the Rome whose face was altered by Gian Lorenzo Bernini, forging marble with unparalleled ingenuity and skill. Also in the capital, at the Gallery of Modern Art, it is possible to admire more than 150 works by the "painter" Pier Paolo Pasolini, works which, with a mix of self-portraits and landscapes, show us a little-known side of the great Italian intellectual.
Finally comes fashion, one of our excellences, with a spotlight on Pitti Uomo, in Florence from 10 to 13 January. And an interview with Jan-Jan Van Essche, Project Designer of this edition of the Florentine event, on the new outdoor trends in which the Belgian designer talks about their concept of fashion, being basic and boundless.
There is no shortage of other cultural proposals and places to discover in January's La Freccia, a magazine to browse through and read also in digital format, on FSNews, and on paper on Trenitalia's Frecce, in the FRECCIALounge and FRECCIAClub, each copy cellophaned and personal, for readers to pick up and take away.