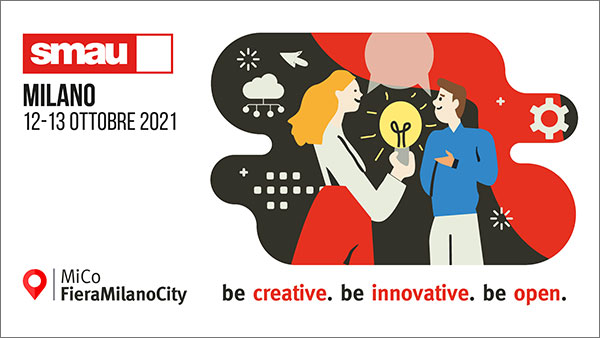 On 12 and 13 October 2021, SMAU returns to Milan as the event of reference for the national and international innovation ecosystem. Also this year, FS Italiane is participating in the event with two leading projects. The first is the network of Innovation Hubs, conceived as places of participation and research centres providing specific skills on new technological trends and on the management methods of strategic innovation. The second concerns the InnoStation platform, where startups, universities and small- and medium-sized enterprises can put forward ideas and projects, participate in challenges and calls for ideas as well as present Open Innovation solutions.
Franco Stivali, Head of Innovation for FS Italiane, accepts the SMAU 2021 Innovation Award for the two projects, given on 12 October at 1.30 pm, as part of the talk on Services and Digital Infrastructures for Smart Cities.
FS also has a double appointment on Wednesday, 13 October. At 10:00 am, Valeria Rizzo – Corporate Affairs, Training and Learning for FS Italiane – partakes in the Innovation and Human Capital round table, with a focus on unity as strength. At noon is Rita Casalini – Head of Open Innovation, will take part in the workshop on Innovation and Purchasing: the importance of being a team.

Participation in SMAU 2021 confirms how important it is for FS Italiane to apply the Open Innovation paradigm, looking outwards through the launch of challenges and hackathons to liaise with young companies and startups with the aim of collaborating on the design of ground-breaking projects and solutions.