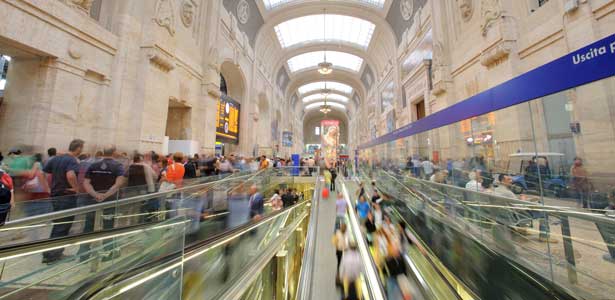 Railway stations will be the heart of the smart cities of the future, thanks to accessibility and multi-modal designs. They will be multi-service hubs, places of integrated and sustainable mobility no longer conceived as mere places for transit, for the arrival and departure of travellers, but as hubs that express cultural, social and low-environmental impact.
One strong point remains the offer of services, related to mobility and beyond, in line with the needs of people choosing to utilise increasingly sustainable and efficient modes of transport for their daily travels.
Integration between physical infrastructures and innovative technological systems facilitates the delivery of new and more complete services, rendering the entire area of the station a point of reference for people, as an example of harmonisation between technology, sustainability and aesthetics.
The new vision, which focuses on people's needs, aims to make stations and surrounding areas safer and more enjoyable, having various objectives including:
increasing the level of connectivity with local public transport, sharing mobility and active mobility, to better respond to people's needs;
improve accessibility within the stations through an inclusive and barrier-free design;
enhance infomobility and wayfinding both inside and outside the station.
In this view and in line with that defined by the 2019-2023 Business Plan, Rete Ferroviaria Italiana plans to restore 620 stations throughout Italy with the aim of enhancing the role of intermodal nodes and multiservice hubs.
Finally, the 2019 Ambrosetti Report, commissioned by FS Italiane, the roadmap for a more connected, inclusive and modern country has been defined. Amongst the five lines of operation traced out on the regional railway transport roadmap, there is specifically that regarding the "evolution of the railway stations for a new urban Renaissance".