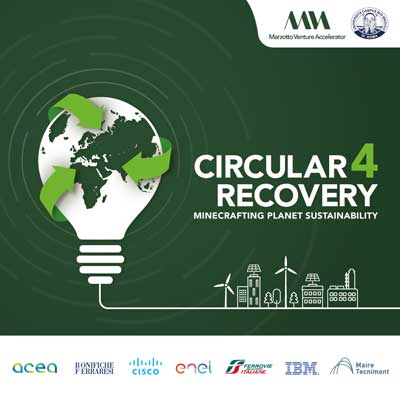 The circular economy challenge is overcome with innovation: Circular 4 Recovery is the call for projects organised by Marzotto Venture Accelerator, a company that focuses on the incubation, acceleration and venture capital for startups, in collaboration with the Campus Bio Medico University in Rome, the Ferrovie dello Stato Italiane and other partner companies, including Acea, Bonifiche Ferraresi, Cisco, Enel Group, IBM, and Maire Tecnimont.
Business projects aimed at the development of innovative technologies and services with low environmental and social impact can be presented until 28 February 2021.
The challenge is organised in five thematic areas that intercept the Sustainable Development Goals of the United Nations 2030 Agenda: Circular Bioeconomy, Circular Water Economy, Circular Energy Economy, New Circular Life Cycles, Circular City & Land.
For each of the themes, the call for projects offers a series of challenges, identified in relation to the specific interests and innovation needs of the companies supporting the initiative.
The selected projects will be included in an acceleration programme, during which the organisers and partner companies shall render their services available in support of the startups.