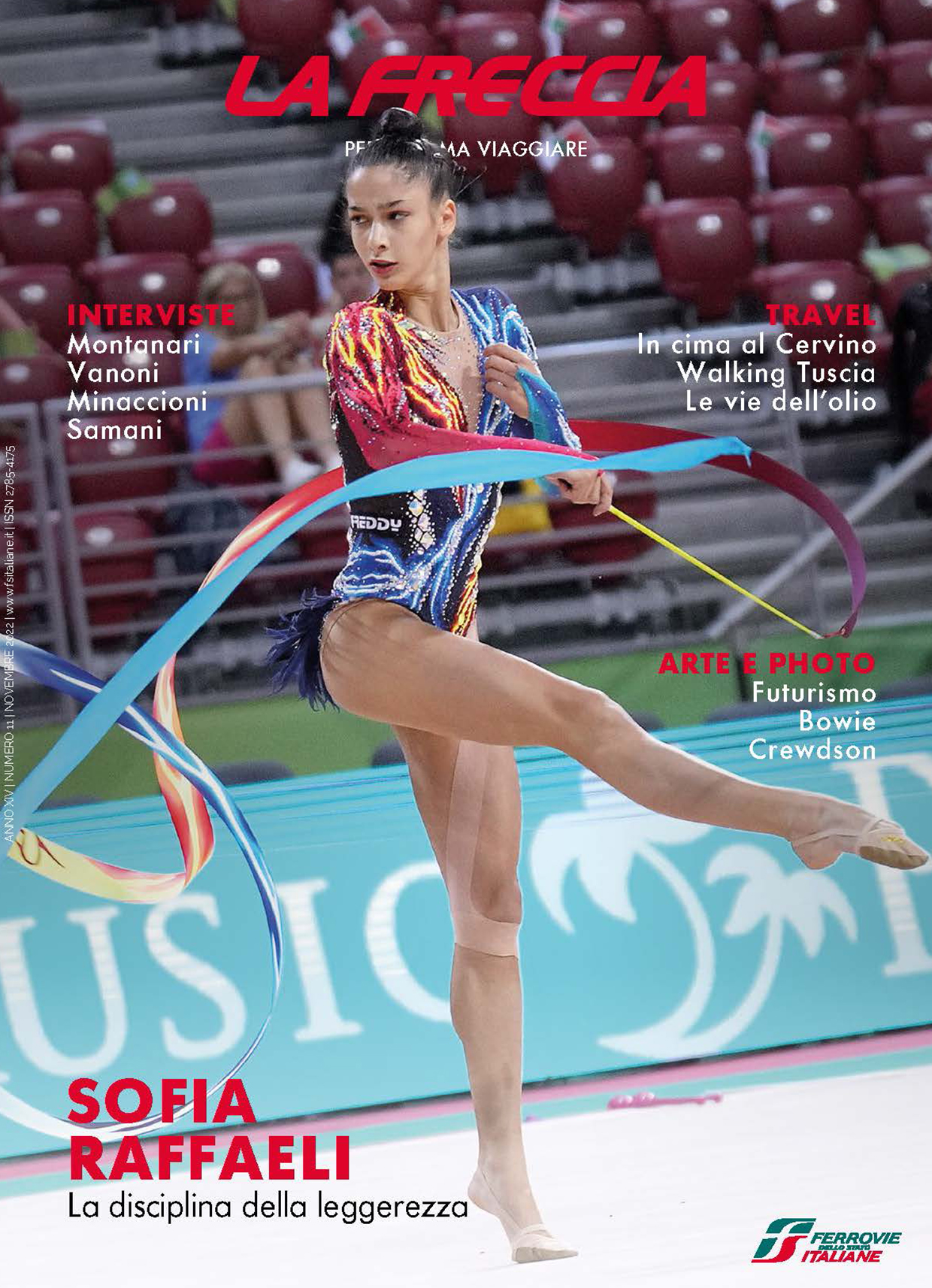 Rome, 2 November 2022
Conquering lightness with the solidity of discipline, study and training. One thrilling example is the star of the November cover of La Freccia: 18-year-old Sofia Raffaeli, who has rewritten the history of Italian rhythmic gymnastics by taking out 78 victories and a pass for the 2024 Olympics in Paris in just a few short years.
If, to be a virtue, lightness needs solidity for support, this lightness also passes through the villages and markets of an Italy rich in history, in which the scent of Christmas begins to be detected, or through the streets of Tuscia where one strolls along green pathways and amidst archaeological sites. It glides like extra-virgin olive oil, the star of events and tastings from Liguria to Molise, and dismounts on the snow between the Matterhorn and Monte Rosa, which welcomes snowboarders and ice climbers.
What could be lighter and yet more profound than art? In Padua, the Futurist movement is explored with an exhibition that analyses its origins amidst newly-emerged works and iconic masterpieces. In Turin, Gregory Crewdson's shots show a never-before-seen side of America. In Florence, Olafur Eliasson creates immersive, luminous works that alter the spaces of Palazzo Strozzi. In Naples, rather, David Bowie is the protagonist of a photographic exhibition that depicts his metamorphosis from Ziggy Stardust to the Thin White Duke.
There is no shortage of interviews with many showbiz personalities, from singer Ornella Vanoni to actors Francesco Montanari and Paola Minaccioni, along with young director Francesca Samani, who won a David di Donatello Award for her film Piccolo Corpo. To conclude is a round-up of the best shows on the bill in Italian theatres.
November's La Freccia can be browsed and read in digital format, on FSnews, and on paper on Trenitalia's Frecce, in the FRECCIALounge and FRECCIAClub, each copy cellophaned and personal, for readers to pick up and take away. The contents of FS Italiane's monthly publication can also be read on the FSNews Telegram channel and the @fsnews_it and @LaFreccia_Mag Twitter profiles.