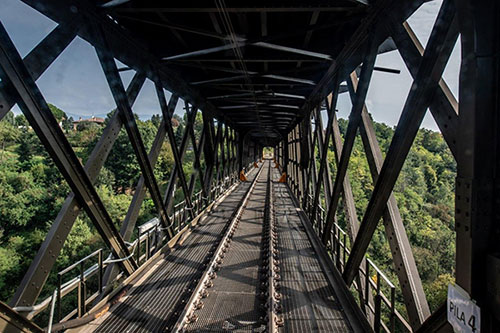 Milan, 14 September 2020
The San Michele sull'Adda bridge reopened to rail traffic today. Rete Ferroviaria Italiana (FS Italiane Group) has completed the third phase of the project about two months ahead of schedule.
There to inspect the bridge were Claudia Terzi – Lombardy's Regional Councillor for Infrastructure and Transport, Michele Pellegrini - the Mayor of Calusco D'Adda, Gianpaolo Torchio - Mayor of Paderno D'Adda, and Maurizio Gentile - Managing Director of Rete Ferroviaria Italiana as well as the Commissioner for Extraordinary Maintenance Operations on the San Michele Bridge.
The reopening involves the continuance of the limitations existing prior to the closure of the bridge, specifically:
road traffic is permitted for vehicles weighing no more than 3.5 tonnes and with a width not exceeding 2.2 metres, alternating one way, with all vehicles being able to travel at a top speed of 20 kilometres per hour;
rail traffic is permitted for weights per axle exceeding 16 tonnes (with specific derogations for the new generation Caravaggio and Donizetti convoys), with trains being able to travel at a maximum speed of 15 kilometres/hour.
In addition, alternating (non-simultaneous) road and rail traffic will be facilitated.

For the construction site activities (installation of scaffolding, sandblasting, painting, sealing coupled profiles, replacing/reinforcing hundreds of metal elements), 60 engineers, technicians and workers of RFI and contracting firms toiled. Altogether there were about 240,000 hours of work, competed round-the-clock shifts.
The worksite will continue with the remaining activities pertaining to the completion of painting the bridge, in line with the work activities that do not affect road and rail traffic.
The total amount of the works came to approximately 21.6 million euro, of which 1.6 million was financed by the Lombardy Region.