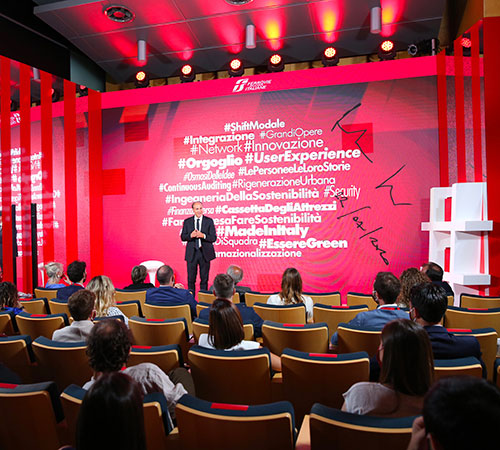 Rome, 25 July 2020
FS Italiane's CEO, Gianfranco Battisti, met young employees from a range of various professional families and representing all the Group companies, to enhance and encourage sustainable development pathways. Of these, about half are women, given that diversity and inclusion are amongst the core principles of FS Italiane. Gianfranco Battisti is the European Ambassador for Diversity, appointed by Violeta Bulc, the European Commissioner for Transport.
"Sustainability, innovation and digitisation to support infrastructure in our country and abroad. For the next few years, this shall be the foundation years on which we will build – together with our young people – the new business model according to the shared value paradigm of the Group, intended as the creation and redistribution of value in the long term," announced Gianfranco Battisti. "In the last two years, FS Italiane has achieved the best results in its history. We generated a shared value of 10.4 billion euro in our country. We want to create the conditions for development and accessibility where there is the greatest need."
During the meeting, within the auditorium of the historic FS Group headquarters at Villa Patrizi in Rome, each proposed a keyword to design the future of the company. A true interactive and constructive dialogue. The youths put forward the keywords that, once projected on a video wall, gave birth to a cloud that outlines the Group's green development vision in a kind of shared pact between young people and the directorate. #Innovazione, #Integrazione, #Sostenibilità, #MadeInItaly, #ContinuousAuditing, #LavoroDiSquadra, #OsmosiDelleIdee and #Integrated&SharingMobility or the new corporate governance choices, in accordance with the principle of transparency and in line with the 17 Sustainable Development Goals of the United Nations 2030 Agenda to which the FS Group adheres and as Battisti has recalled. Starting from people, women, a wealth of different experiences and values and with young minds – the real drivers of change – to innovate the business model and to construct the country of the future.
The meeting, titled #lePersoneEilFare, was the opportunity to present railpost.it, a new blog presenting the stories, experiences and projects with a substantial change, going from story-telling, which aims simply to attract and sell, to story-doing that sees as protagonists those who do, as the narrator of their own action.
Listening, dialogue and sharing in objectives is at the heart of the approach that the FS Italiane Group adopts, speaking to young talents, of discontinuity, systemic approaches and lateral thinking but especially of passion, aimed at the formation of a new generation of green managers for the future.