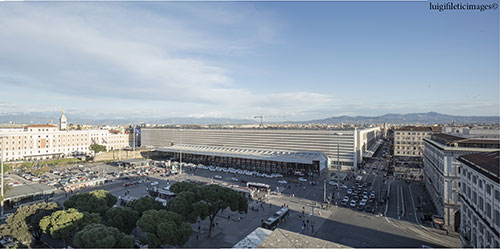 With its companies Grandi Stazione Rail, FS Sistemi Urbani and Rete Ferroviaria Italiana, FS Italiane Group together with Roma Capitale have announced the design competition for the redevelopment of Piazza dei Cinquecento in Roma Termini.
The competition, aimed at drafting the technical and economic feasibility project, will consist of two phases and shall be the first step in the implementation of the architectural and functional redevelopment programme of the Piazza along with the entire urban area pertaining to the Roma Termini hub. The objectives are: to enhance the relationship between the station and the discoveries of historical, monumental and archaeological value present in the area, with particular reference to the Servian Walls, the Baths of Diocletian and the National Roman Museum in Palazzo Massimo; rationalise the components of public and private accessibility; integrate and enhance the alternative mobility systems; streamline the public and private transport stops; improve safety conditions.
The projects involved will have to achieve high standards of environmental, social and architectural sustainability, aiming to transform the Piazza into a hub of integrated and sustainable mobility, in line with the aims of the Piano Urbano della Mobilità Sostenibile (PUMS - Urban Plan for Sustainable Mobility) of Roma Capitale.
The Roma Termini station, the largest railway hub in Italy in terms of size and traffic, as well as one of the main stations in Europe, celebrates its seventh decade of a history that began on 20 December 1950, with the inauguration of the Dinosaur, the canopy over Piazza dei Cinquecento. As a symbol of the desire to make a new start in Italy, still grappling with the consequences of the war, the Dinosaur and the new Station changed the face of the old Termini that had been operating since 20 April 1873 and represented an example of modernity in the world. On the occasion of its 70th anniversary, the new Roma Termini recalls the past whilst looking to the future, ready to change face yet again with a significant redevelopment plan.