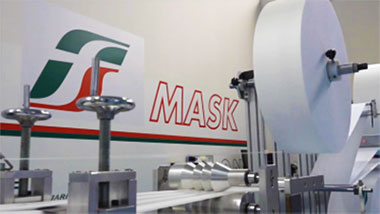 Setting up a medical protection device production line in a workshop dedicated to the construction and maintenance of components for railway infrastructure.
This is exactly what happened in the Officina Nazionale Apparecchiature Elettriche (ONAE – the National Workshop for Electric Equipment) of the Rete Ferroviaria Italiana (FS Italiane Group) where, since mid-July to today, about 5 million IIR-type protective masks have been produced to protect against Covid, certified by the Istituto Superiore di Sanità and intended for railway staff.
The case history was presented at the SAIE in Bologna that – under the banner of Riparti Italia – returns to Bologna Fiere from 14 to 17 October to give new life to the chain of construction, consisting in design, building and installations.
The presentation was overseen by Massimo Del Prete, head of RFI's Engineering Department.
The new activity required the adaptation of dedicated spaces within the railway plant of the Emilia-Romagna capital, in addition to the acquisition and installation of ad hoc equipment, with two items imported from China and a third produced in Italy, thanks to which production of FFP2 masks is set to start soon.