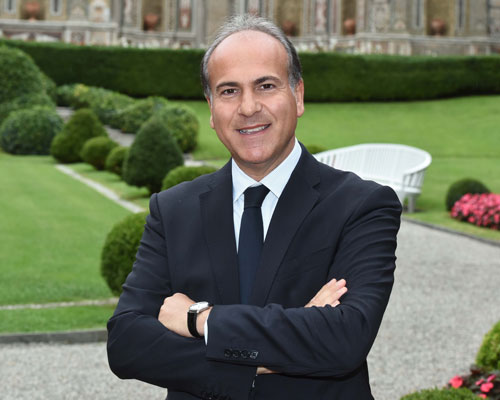 Rome, 16 January 2020
The FS Italiane Group joins the Manifesto di Assisi to promote sustainable action as a real driver of development and value creation for the national system.
«A truly sustainable approach is the one in which decisions are made with a clear sense of perspective, not only worrying about short-term effects but projecting onto a broader horizon», commented Gianfranco Battisti, Chief Executive Officer and General Director of FS Italiane Group. «As a large industrial group in the transport sector, FS Italiane has the responsibility and awareness of how its choices can affect people's quality of life and natural balance».
The Manifesto di Assisi—promoted by Ermete Realacci as President of the Symbola Foundation, Vincenzo Boccia as President of Confindustria, Mauro Gambetti as Father Custodian of the Sacred Convent of Assisi and Enzo Fortunato as Director of the San Francesco magazine—was established to support the development of a human-scale economy to combat the climate crisis.
Environmental, social and economic sustainability combined are one of the principles underlying FS Italiane's 2019-2023 Industrial Plan, a strategic cornerstone that guides the activities of all Group companies. FS Italiane has joined the United Nations Global Compact, of which it shares and supports the fundamental principles of human rights, labour standards, environmental protection, transparency and the fight against corruption. The Group is also involved in the achievement of the 17 Sustainable Development Goals adopted by the United Nations General Assembly of 25 September 2015, with the 2030 Agenda.
To give concrete expression to its commitment to sustainability, FS Italiane has defined its long-term goals (2030-2050): an increase in the modal shift for passengers and freight towards sustainable mobility; a push to reach the highest levels of safety on rail, road and motorway networks; a reduction of CO2 emissions so as to become carbon neutral by 2050.
The FS Italiane Group has activated sustainable financial instruments by issuing two green bonds, with a significant response from the national and European markets. The first—in 2017—was for the purchase of regional, high-speed and freight trains (1.3 billion euro). 70% of the latest green bond, issued in 2019 for a nominal value of €700 million, will be used to buy new regional trains, as well as HS trains and rolling stock (locomotives and wagons) for freight transport.
In ten years, the Italian high speed—which has revolutionised people's lifestyle and mobility by significantly reducing travel times—has saved the environment 20 million tonnes of carbon dioxide emissions. Continuing with the example of high speed, the new regional Pop and Rock trains testify to the Group's commitment to commuters and to the environment. In addition to being almost entirely recyclable, the new regional trains also consume up to 30% less energy than previous-generation trains.