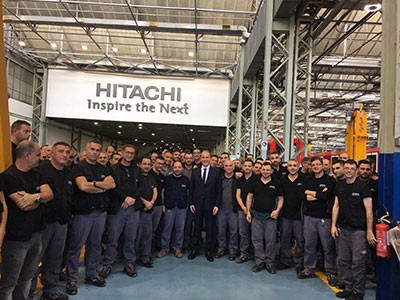 Reggio Calabria, 1 October 2018
For the occasion of the delivery of the new InterCity trains to the citizens of Calabria, the CEO of FS Italiane Gianfranco Battistimet with employees in the Hitachi Rail Plant in Reggio Calabria who have shown continuing perseverance and passion during the construction of the new Rock train, commissioned by the FS Italiane Group to enhance the regional transport fleet.
Four of the six production lines in the Reggio Calabria will be fitted to produce the new Rock train. Commissioned to Hitachi Rail Italy, the Rock, with its two floors and able to accommodate about 1,400 people, with over 700 seats in its longest section, can travel at a top speed of 160 km/h.
Together with Pop, the Rock will be part of the new fleet of regional trains that will ride the rails beginning in May 2019. The new model was unveiled on September 18, in a world premiere, at InnoTrans 2018, in the presence of the CEO of FS Italiane, of the Minister of Infrastructure and Transport Danilo Toninelli, of the President of FS Italiane Gianluigi Castelli, and that of the CEO and Managing Director of Trenitalia Orazio Iacono.
The production of Rock and Pop railcars is part of the broader plan to relaunch the FS Italiane Group for regional transport, which provides for a total investment of around 6 billion euro and over 600 new trains. An unprecedented investment that marks a paradigm shift for commuters who will be guaranteed the quality and excellence of Italian High Speed also on regional and metropolitan rail transport. With this choice, the FS Italiane Group takes a concrete commitment to put people and their needs at the centre of FS Italiane's strategies.
For the occasion of the visit to the plant in Reggio Calabria, the CEO of FS Italiane also visited the trains in production for metropolitan transport in Milan, Honolulu, Lima, and Thessaloniki. Trenitalia CEO Orazio Iacono and Hitachi Rail Italy CEO Maurizio Manfellotto also took part in the meeting.