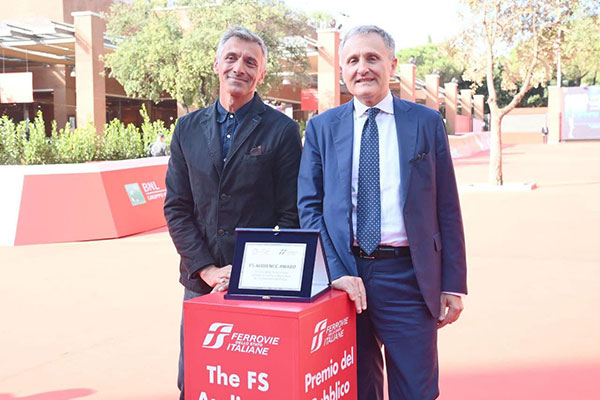 On 24 October, the sixteenth edition of the Rome Film Fest saw the presentation of the FS Audience Award for the best film of the Official Selection, as voted by spectators.
Mediterráneo (Open Arms – The Law of the Sea) by Marcel Barrena is the winning film of the FS Audience Award, in collaboration with the FS Italiane Group, as Official Sponsor of the Festival. The film was voted by viewers of the first rerun of the Official Selection films through the official APP and the website www.romacinemafest.it.
Luca Torchia, FS Italiane's Chief Communications Officer, presented the award to Aldo Lemme, Adler Entertainment's Head of Theatrical Distribution, who will distribute the film in Italy.
Mediterráneo (Open Arms – The Law of the Sea) is a Spanish production from Lastor Media, Fasten Films, Arcadia Motion Pictures and Cados Producciones together with the Greek production company Heretic.
With the support of the 2021 Rome Film Fest, the FS Italiane Group promotes the cultural development of the country through agreements with important events, institutions and museums of international fame whilst guaranteeing mobility for people and thus the free circulation of ideas – a natural vocation for a company that has been woven for over a century in the Italian civil, economic and social fabric and been a protagonist of the country's infrastructural development.