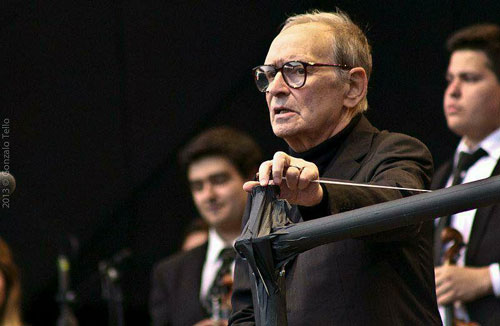 7 July 2020 - Ennio Morricone, his unforgettable soundtracks and the memories of those who knew and enjoyed his work. So, it shall be, with his music and the voice of those who were witness to his art, that FS Italiane will pay tribute to the recently-departed great master throughout July. The Group's webradio, FSNews Radio, which can be heard on fsnews.it and in all Trenitalia FrecciaLounges in the main Italian stations, will include in its schedule a series of daily appointments – at 7:30 am, 10:15 am, 4:15 pm and 8:15 pm – dedicated to the memory of a brilliant artist and talented composer, an Italian who was admired and esteemed all over the world. 
To kick off will be a podcast that traces the master's life, delving into his career highlights with a view to train-related compositions. 
Celebration of the great Oscar-winning musician will then turn to his most famous works, those thrilling tales that have become part of the international collective memory, such as the soundtracks to The Good, the Bad and the Ugly, Once Upon a Time in America, Cinema Paradiso and The Hateful Eight.