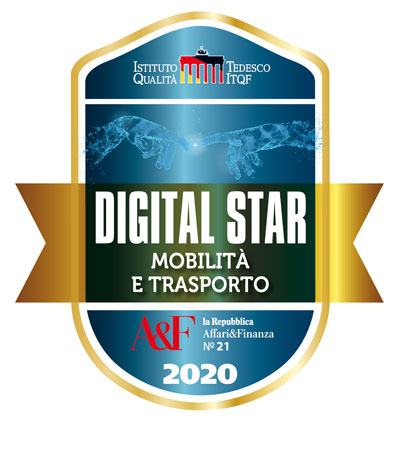 As a result of the privileged relationship between the FS brand and people, the recognition of the Group as a Digital Star amongst Italian companies that have managed to transform,  reads the La Repubblica newspaper's Affari&Finanza section, "the relationship between users and brands into something that increasingly resembles a human relationship." The German Quality and Finance Institute, in the second edition of the ranking, awarded first and second place to Trenitalia and Italian State Railways respectively, as "Digital Stars" of the mobility and transport sector.
"This result," confirms Battisti, "is not one of chance but of the constant and daily teamwork carried out by the FS Italiane Group and its companies. The relationship with citizens, with the media and with stakeholders plays a fundamental role in transmitting the idea of developing the future - sustainable, shared and integrated - that we in the FS Group are pursuing." Indeed, innovation, technology and digitalisation are the fundamental drivers that guide the Italian State Railways towards an increasingly sustainable development, guaranteeing quality and efficiency.
Now in its second edition, the study availed of the Social Listening Index (SLX) to analyse online comments from a sample of 2,000 potentially-relevant companies in Italy. This project, conducted over 12 months, resulted in some 2.5 million online texts being gathered, containing references to the themes of technology, innovation and digitalisation, analysing the sources (about 438 million) present across the entire web, social media, portals, forums, blogs and videos.
After this initial phase, only the 350 companies to have used the digital revolution to benefit their relationship with the customer remained in the competition. The digital communication scenario will be increasingly rich in innovations and areas to discover in the coming years. And the FS group rises to this challenge. As CEO Battisti concludes, "The digital and technology, in fact, allow ever greater connections between people and between the company and its passengers. These are indispensable qualities for today's restart and the transport model that we strive every day to construct for tomorrow, as envisaged by us at FS."