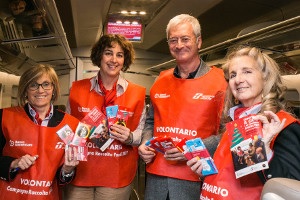 Rome, 1st December 2017

On Saturday 2 December, the "Condividi anche tu" fundraising campaign by the FS Italiane Group was launched for the Fondazione Banco Alimentare Onlus. The campaign will be held on board Freccia and regional trains up until Sunday 7 January 2018.
300 volunteers on board trains will offer passengers a Tablò chocolate bar (donated by Perugina) in exchange for a minimum donation of 3 euros. Receipts will be issued.
Every donation made will allow the Banco Alimentare (food bank) to source and distribute 21 kg of food, equivalent to 42 meals*. The donations will continue up until the end of June 2018, in stations at the automatic self-service ticket machines and in FrecciaClubs.
On Tuesday 5 December, in the Auditorium of the FS Italiane Group head offices, Carlotta Ventura, Brand Strategy and Central Communications Director, and Marco Lucchini, Secretary General of the Fondazione Banco Alimentare, will present the details of the social initiative in collaboration with Nestlè Perugina.
Carlotta Ventura emphasised that «The social fundraising initiative that the FS Group has decided to support his year for the Fondazione Banco Alimentare is about more than just collecting donations - it is an important step in the corporate social responsibility strategy that FS Italiane has been working on for some time. We are a large Group and we want to help people who are living in seriously difficult social conditions. We are proud of generating a shared wellbeing, responsibly combining the world of business with that of charity and the circular economy».
«We are honoured to be chosen by the FS Group,» commented Marco Lucchini, «because their charity campaigns are a concrete example of CSR and because we will get the chance to bring our message throughout the country. We feel we have a huge responsibility, because the initiative will involve hundreds of our volunteers as well as numerous FS Italiane Group employees, who will be working to support the Banco Alimentare food bank. We are confident that travellers will be generous and willing, because helping the Banco Alimentare food bank means supporting numerous associations in the country who welcome 1.5 million people in poverty, more than half of whom are Italian, and 135,000 are minors.»
*3 euros is the amount paid by the Banco Alimentare to source and distribute 21 kg of food, equal to 42 meals (1 meal corresponds to 500 g of food, according to the estimate used by the Fédération Européenne des Banques Alimentaires).