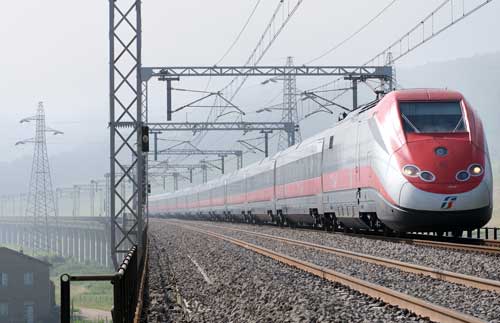 Available as of today from the Trenitalia sales systems are Frecciarossa tickets that, for the first time as of 3 June, will connect Turin with Reggio Calabria without intermediate changes.
In addition, to also connect Sicily to the cities served by the High Speed trains, along with the Frecce ticket, it will be possible to purchase a place on the Blu Jet high-speed craft of FS Italiane Group, crossing the waters between Villa San Giovanni and Messina. The ship and train schedules are integrated to ensure easy interchanges between the two modes of transport.
The daily connection to/from Reggio Calabria aboard Frecciarossa trains is the main innovation amongst the Trenitalia (Gruppo FS Italiane) offer that, as of the beginning of June, shall include 74 Frecce and 48 InterCity services along the main lines of Italy, doubling the number of trains available from the second leg of Phase 2 of the COVID-19 emergency health that was enacted as of 18 May.
The Trenitalia offering expands with a number of connections in line with the demand for mobility during this period, taking into account the 50% seat availability due to the "chequerboard" reservation system that guarantees the respect of social distancing.
As of 3 June, also available to passengers heading to and from Calabria are the two Frecciargento trains connecting Bolzano and Sibari. The Frecciabianca connecting Rome to Calabria were already in operation as of Phase 1 of the health emergency.
Trenitalia is committed to continuing paying the utmost attention to people's needs, with health and hygiene coming first of all. Distributed aboard the Frecciarossa and Frecciargento are free safety kits (with mask, hand sanitiser gel, latex gloves and disposable headrest cover), along with a can of water for all passengers. By using their smartphone to frame the QR code on the tables, passengers can view information about the train cleaning and sanitising activities and processes.