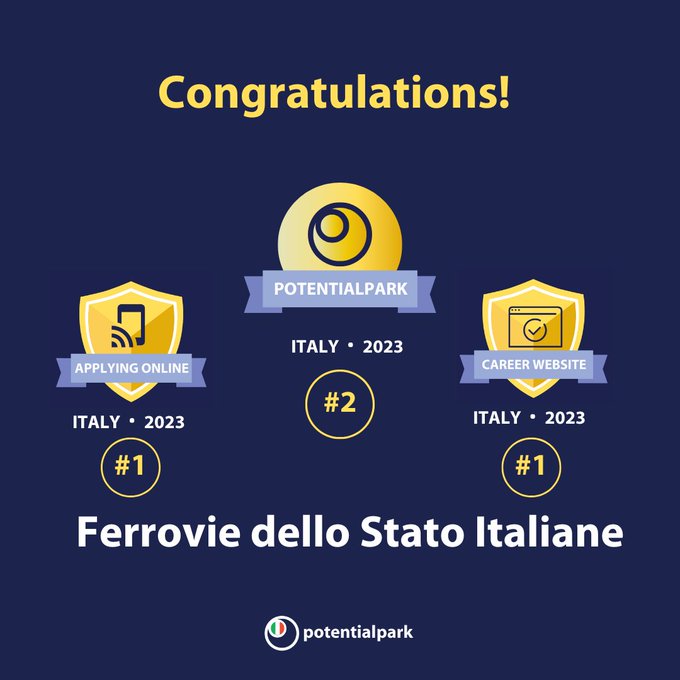 Again this year, the FS Group has conquered the top of the Potentialpark ranking to reach first place in two of the 4 survey topics: Career website ranking and Applying Online Ranking.
Potentialpark, the Swedish talent communications company that deals with market research in the field of Employer Branding announced the results on 21 February during the Talent Communication Summit Italy 2023.
The Potentialpark Talent Communication Study brings together students and graduates from around the world each year to understand what the emerging workforce wants and how employers can become leaders in communicating with young candidates.
Thanks to their communication channels, Ferrovie dello Stato Italiane remains among the leaders, ranking 2nd in the general ranking for the best online job search experience.
The study involved 70 leading Italian talent communications companies, examining their digital presence in staff recruiting strategies and their ability to communicate online with jobseekers. In Italy, the survey received more than 4 502 replies from students and recent graduates throughout the country.
Ferrovie dello Stato Italiane has always strived to optimise talent acquisition processes and collaborative rapports with the most prestigious Italian universities, promoting targeted initiatives to encourage the growth of talents and the development of creativity.