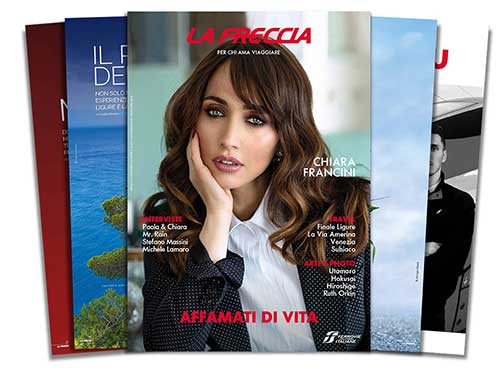 Rome, 3 April 2023
La Freccia shines light on the affirmation of the April cover star, Chiara Francini, in theatres with a female-focused story and soon to be in bookshops with Forte e Chiara. Where Chiara declares herself "hungry for life", the FS magazine implores all of us to be hungry for life. But the blurb on the cover also sums up the meaning behind most of this month's articles, focusing on the best that spring has to offer with its drive to be reborn, to discover, to travel.
The perfect destination for an outdoor break is Finale Ligure, a paradise for outdoor sports and experiences with nature. You can wander around Italy, nose in air, to admire the tallest statues in the country, from San Carlo in Arona to the Statue of Christ the Redeemer in Maratea. Then, continue on foot along Via Amerina, taking the path linking Rome to Perugia. In the plain of Sibari, follow in the footsteps of civilisations dating back thousands of years. Meander along the typical streets (or, calli) of Venice, in search of the most creative urban realities. Celebrating the beauty of a country to live in and to protect, as Earth Day on 22 April 2023 reminds us and once again invites us to do our part to safeguard the environment.
Then, space is dedicated to art with the Utamaro, Hokusai, Hiroshige – Geishas, Samurai and the Civilisation of Pleasure exhibition in Turin, on a discovery of the Land of the Rising Sun in the works of three great Japanese masters, featuring prints, kimonos and theatre masks. Palazzo Strozzi in Florence pays tribute to 30 years of the Sandretto Re Rebaudengo collection, with over 70 works by leading contemporary artists from Maurizio Cattelan to Shirin Neshat. Meanwhile in Trieste, fashion is celebrated as a masterpiece with the opening of Its Arcademy – Museum of Art in Fashion, showcasing 20 years of trends through a collection of designers to have participated in the Talent Support competition. 
There is no shortage of interviews with big names from the worlds of entertainment and sport, from Mr Rain, the rapper who made a name themselves at the last Sanremo Festival, to the reunion of the duo Paola & Chiara, ready to take their big hits on tour. Then there is actor and playwright Stefano Massini and Italian National Rugby Team Captain Michele Lamaro.
All this and more in April's La Freccia magazine, to be browsed and read in digital format, on FSNews or in hardcopy on Trenitalia's Frecce trains, in the FRECCIALounge and FRECCIAClub, in personal copies encased in cellophane, which readers can take with them. The contents of FS Italiane's monthly magazine can also be read on the FSNews Telegram account or on the Twitter profiles of @fsnews_it and @LaFreccia_Mag.