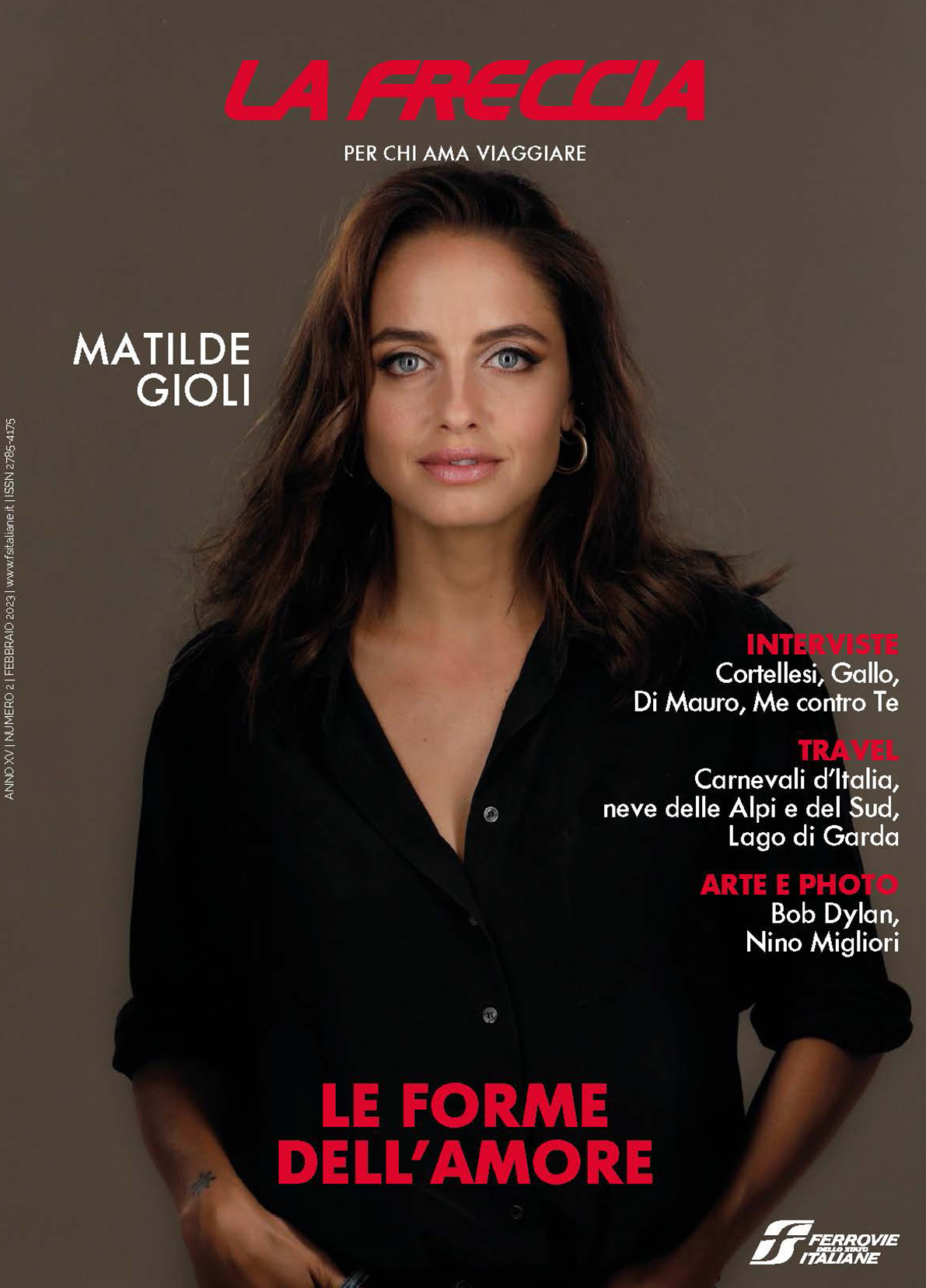 Rome, 01 February 2023
La Freccia celebrates the many forms of love during the month that hosts Valentine's Day. Intended as sentimental transport, spiritual inclination, dedication to the other, passion for life, travel, one's work. As in the case of the actress Matilde Gioli, February's cover girl, tireless professional appreciated by the general public in the Italian TV series "Doc - Nelle tue mani" and on the big screen with the comedy "Tramite amicizia", directed by Alessandro Siani.
Sacred or profane love, La Freccia relays the carefree madness of the Italian carnival with a series of masks, rites, rides and parades. It then climbs the country's snow-capped peaks, from the Alps to Pollino. The unprecedented view lets you fall in love with the beauty of Lake Garda, nestled in history, legends and ancient traditions, continuing on to the millennial village of Vico nel Gargano, in Apulia, which seems carved in stone, and that of Longobardi, in Calabria, serving the best eggplant in the world.
Balanced between the lighter and darker sides, but always talking about love, this month La Freccia reaches Ukraine, with a brief report that narrates, from the war zones, the support and comfort brought by humanitarian organisations to those who flee and those who have been experiencing the war for almost a year.
And, as an illuminating showcase of the complexity of life, art and photography cannot be missed, with the Bob Dylan Retrospectrum exhibit at MAXXI in Rome, which presents over 100 works by the rock star, the retrospective Nino Migliori. "L'arte di ritrarre gli artisti" (The art of portraying artists), at the Royal Palace of Colorno in Parma and the 20 Etruscan bronze statues discovered after more than two thousand years in San Casciano dei Bagni, near Siena.
All this and more in the February edition of La Freccia which can be browsed and read in digital format, on FSnews, and on paper on Trenitalia's Frecce, in the FRECCIALounge and FRECCIAClub, each copy cellophaned and personal, for readers to pick up and take away.