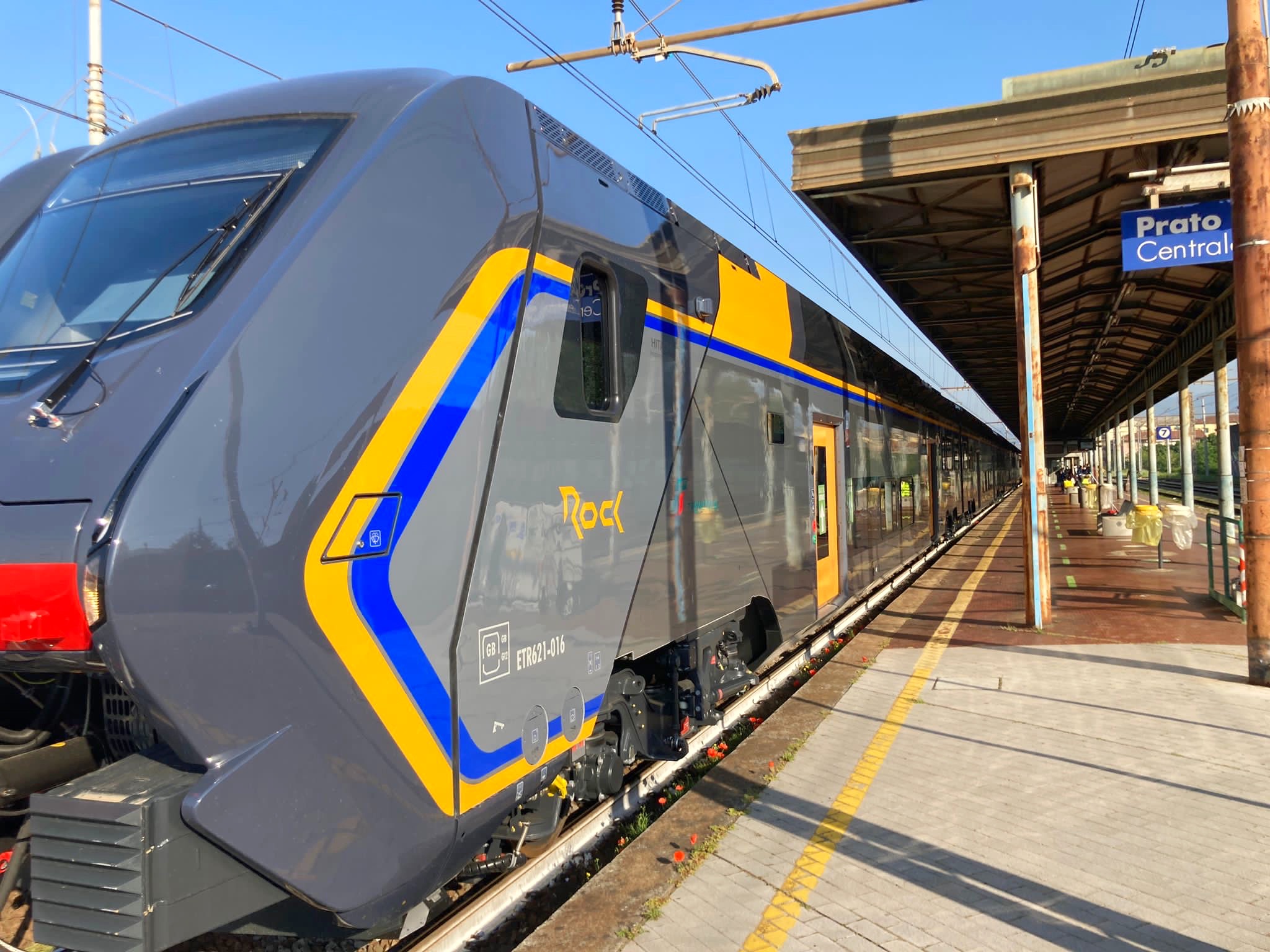 Florence, 11 May 2022
Two more Rock trains have arrived for the renewal of the fleet in Tuscany, with both comprising six carriages and a seating capacity of 717.
The new trains complement the service along the Florence-Prato-Pistoia line. The first of the two trains went into service last Monday and the second this morning at 6:02 a.m., departing from Firenze Campo Marte for Prato.
The new vehicles will thus increase and renew the fleet of regional trains in Tuscany. At this point in the restart, this is an important signal as people resume travelling for work, study and leisure, as well as being in anticipation of the summer period.
Thus, 14 new Rock trains have now reached Tuscany in the last two years, out of the total 29 Rock trains in the Service Contract. The convoys are part of the supply of 100 new trains envisaged in the 2020–2034 Service Contract, signed in November 2019 by the Tuscany Region and Trenitalia. This 15-year contract sees investments of almost 1.4 billion euro, of which approximately 913 million euro is earmarked for fleet renewal.
ROCK, MORE COMFORT FOR EVERYBODY
With six double-decker, high-capacity carriages, this train revolutionises the travel experience, being designed with people in mind and having: a top speed of 160 kilometres/hour and over 700 seats, roomier seating for passengers, bigger windows to admire the beauties of the Bel Paese, an intranet portal, a children's pushchair area, LED lighting, a new air-conditioning system, plus 220 V outlets and USB ports for charging tablets and smartphones.
VIDEO SURVEILLANCE AND INFORMATION
50 CCTV cameras for safe travels and passenger information monitors that are twice as large past versions.
ENVIRONMENTAL SUSTAINABILITY
An eco-sustainable train recyclable up to 97%, with a 30% reduction in energy usage compared to trains of the past and the use of recycled raw materials all characterise the ecological footprint of the Rock train.
PASSENGERS WITH REDUCED MOBILITY
Two seats are dedicated to disabled passengers, located in the immediate vicinity of the access doors and the accessible bathroom, in order to minimise the need to move about the train. The vehicles are also constructed in such a way as to facilitate people with reduced mobility boarding and alighting.
BICYCLE TRANSPORT
Eighteen bike slots with electrical sockets included to charge new-generation models, as well as luggage racks.