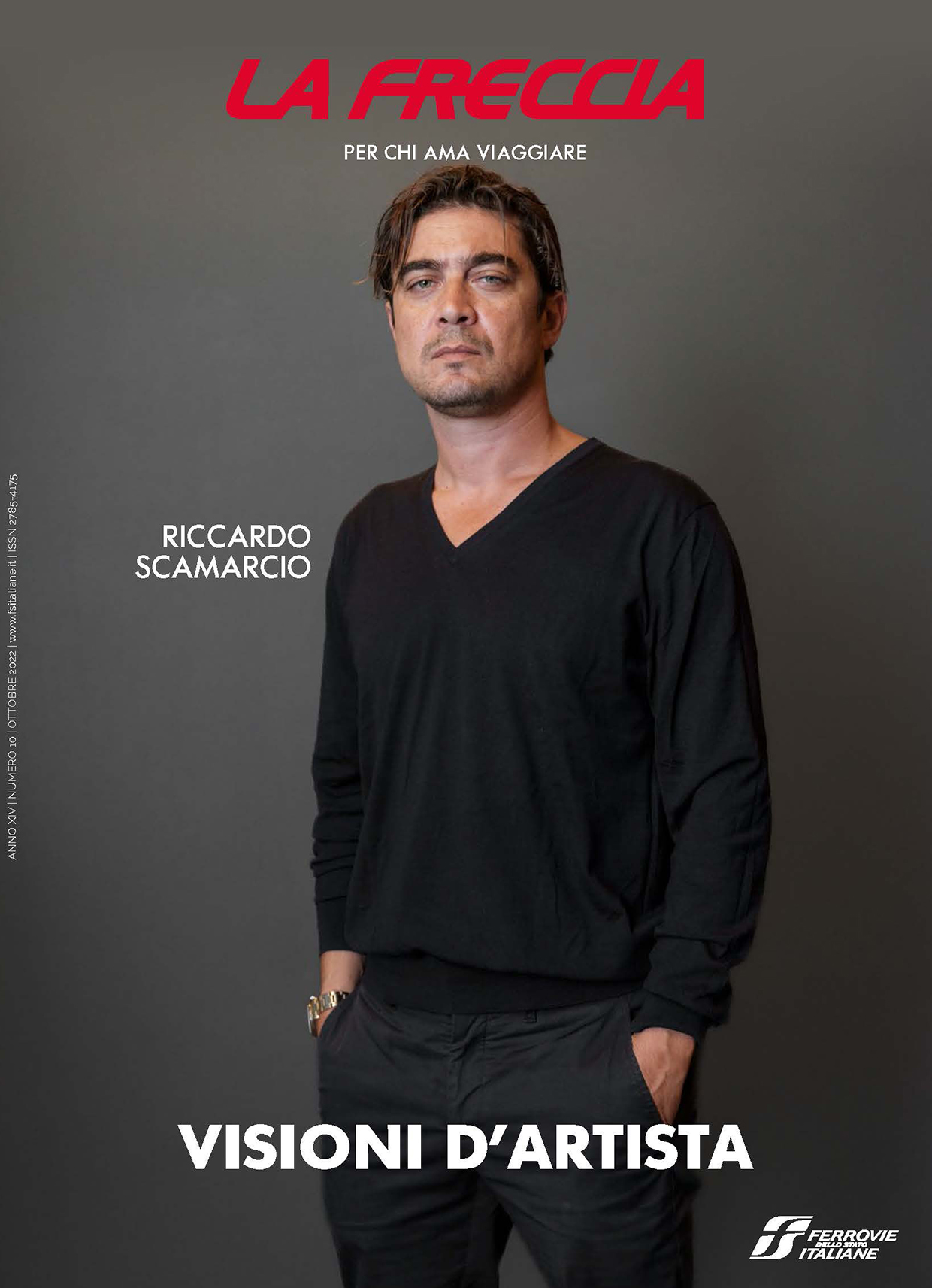 Rome, 3 October 2022
October's La Freccia celebrates the seventh art with actor Riccardo Scamarcio, protagonist of the film L'Ombra di Caravaggio that is set to premiere at the 17th Rome Film Fest, in which the FS Group is participating as a sponsor and awarding the "Audience Award".
Once again, this month, La Freccia's range of content is rich in suggestions and recommendations for painting, music, photography, culinary arts and cinema to offer readers "artist's visions" and stimuli to travel.
Because travel – which is never just a transfer from one place to another – together with art, stimulates us to look further in order to know, interpret and understand our surroundings.
In this issue are areal views of footbridges and cycle-pedestrian bridges suspended over the waters of northern Italy, the footprints of prehistoric dinosaurs scattered throughout the Altamura area near Bari, and the path crossing Sicily from the Mediterranean beaches to the slopes of Mount Etna. This is without forgetting the tasting of traditional sweets created by art or by chance within the walls of monasteries or savouring a glass of excellence at the Merano WineFestival, which hosts quality producers with a focus on the environment.
Then there is a tour of Catanzaro, with its itinerary of museums, multifunctional hubs and parks with open-air sculptures; Rome for the exhibition on Vincent Van Gogh and the archival images of the Fondazione FS that tell the story of life in Italian stations; Modena and Reggio Emilia for the luminous shots of Luigi Ghirri, celebrated 30 years after his death; then finally Siena, where great international photography takes centre stage until 20 November.
Finally, is a focus on green. The environment is at the core of the Festival of Sustainable Development, again this year in cooperation with the FS Group, addressing pressing issues such as energy transition, climate change and urban regeneration. Whilst inclusion is the goal of Iulia Barton's universal fashion project, the aim is to make garments that meet the needs of people with disabilities.
The October La Freccia can be browsed and read in digital format, on FSnews, and on paper on Trenitalia's Frecce, in the FRECCIALounge and FRECCIAClub, each copy cellophaned and personal, for readers to pick up and take away. The contents of FS Italiane's monthly publication can also be read on the FSNews Telegram channel and the @fsnews_it and @LaFreccia_Mag Twitter profiles.