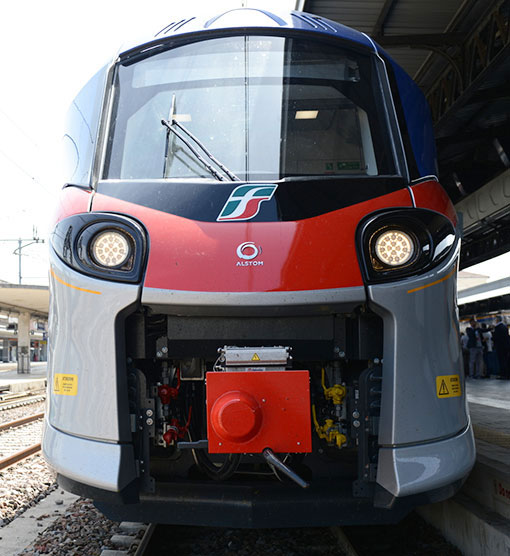 Messina, 26 October 2020
Trenitalia has delivered three new Pop trains to the Sicily Region. The process of renovating the island's fleet continues, with eight new Pop trains in circulation in Sicily, five of which were delivered in 2019. The new trains will travel on the Palermo - Messina and Messina - Syracuse lines. On board of one of the three new Pop, there is also a vending machine for packaged drinks and snacks, to make the trip even more comfortable. Sicily is the first region in the South where you can find a snack machine on board.
In total, Sicily will be receiving 43 new trains. In addition to the 21 Pop trains, 5 electric trains and 17 diesel-electric trains are planned, under the Service Contract signed in May 2018 by the Sicilian Region and Trenitalia, which provides for investments of over €426 million, of which approximately €325 million for the purchase of new trains to enhance regional and metropolitan mobility on the island. As a result, the average age of the convoys will be reduced to 7.6 years in 2021. The operation confirms the importance given to regional transport in the FS Italiane Group's 2019-2023 Business Plan.
Pop, improved passenger comfort
Technologically advanced, spacious and environmentally friendly, the Pop reaches a maximum speed of 160 km/h, can carry up to 500 people with over 300 seats, has larger windows to admire the beauty of the landscape, intranet portal, stroller area, LED lighting, new air conditioning system, USB and 220V power sockets to charge tablets and smartphones, and 8 bike racks. Moreover, starting from these deliveries, on request of the Region, the trains going to Sicily will be equipped with convenient tables.
Sustainability, safety and accessibility
Up to 97% recyclable with a 30% reduction in energy usage compared to previous trains, the Pop boasts high standards of reliability and safety, with on-board cameras and monitors that perform live recordings. There are also two seats for the disabled.
Relaunching regional transport
The new trains are part of FS Italiane Group's extensive recovery plan for regional transport, involving a total economic investment of about €6 billion and over 600 new trains within five years, of which 200 in the South, to ensure quality and excellence also in regional and metropolitan rail transport.
Trenitalia's commitment in Sicily
441 guaranteed services every day by a fleet of 97 trains, 5,500 points of sale scattered throughout the region, 1,205 people employed by Trenitalia.