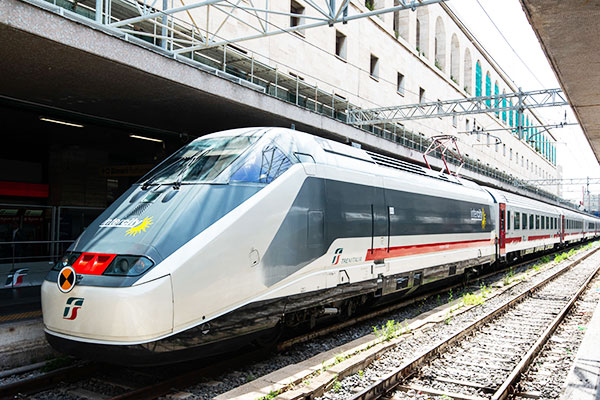 Rome, 12 June 2019
Greater comfort, improved punctuality and new onboard services for travellers on Trenitalia (FS Italiane Group) InterCity trains.
These are the main innovations illustrated today to Rome by Danilo Toninelli, Minister of Infrastructure and Transport, Gianfranco Battisti, CEO of FS Italiane and Orazio Iacono, CEO of Trenitalia.
Innovations are an integral part of the actions planned by the 2017-2026 Contract of Service between Trenitalia, the Italian Ministry of Infrastructure and Transport and the Ministry of Economy and Finance, thanks to which it will be possible to further improve mobility for those who can choose from 108 InterCity, Day and Night trains per day. The connections will offer a capillary service with approximately 200 cities serviced and were chosen by about 14 million travellers in 2018.
In particular, InterCity trains with E414 locomotives were presented in order to ensure high standards of punctuality and regularity and to thus improve the overall quality of the journey. The locomotives, already circulating on the Milan-Genoa-La Spezia/Livorno line, are set to also be utilised to and from Ventimiglia and Grosseto and for connections between Milan and Apulia, via the Adriatic line.
Other additions were places dedicated to bike transport and spaces for prams, along with vending machines for snacks and drinks, which will increase the overall satisfaction of travellers, which already reaches 90% today. The new services have already been tested by travellers between Rome and Reggio Calabria.
Activities are underway for the renovation of the areas and fittings, with new LED lighting and fabrics, together with a better perception of safety aboard the train with the installation of surveillance cameras. On the InterCity Night trains, 70% of the berths have already been renovated, mostly concentrated on the nocturnal connections between Rome and Sicily. Restyling operations for the sleeping cars are also under way.
Additional innovations include the introduction of a travelling cleaner, with a service to improve the cleanliness and decorum of the carriages. Specialised operators travelling on InterCity trains to take timely and continuous action will ensure higher standards of cleanliness.
Trenitalia's endeavours have the objective of enticing more and more people to opt for the train - an ecological means of transport par excellence - for their medium and long journeys, leaving the car at home. This will provide enormous benefits for the environment and, as a result, for the air quality in the cities and major urban areas all around Italy. The shift from using private vehicles to catching the train is also a fundamental factor in diminishing the social costs especially connected to accidents and congestion in the cities.