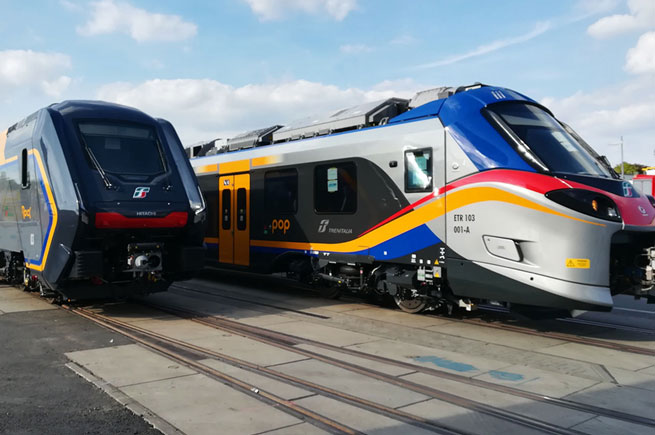 Rome, 10 October 2019
Ten million more people (+2.8%) travelled on regional trains in the first nine months of 2019, compared to the same period of the previous year.
Over a million more (+3.4%) boarded in September 2019 compared to September 2018.
The punctuality perceived by passengers is also on the rise—nine out of ten regional trains (91.6%) arrive within five minutes. Annual growth equals two percentage points.
These are the main numbers from the first nine months of the year for the Trenitalia (FS Italiane Group) regional and metropolitan rail transport. Added to this, there is a constant growth in customer satisfaction: 87 out of 100 travellers are satisfied with the trip as a whole (87.4%), up about two percentage points since September 2018.
The latest demographic survey, for which Trenitalia commissioned an external company, has shown increased results also for all other indicators: cleanliness (75.5% satisfaction, +3.1), comfort (87.5%, +2.7), punctuality (79.2%, +2.2), time spent on board (88.8%, +1.9), information aboard the train (84.4%, +1.8) and security (83.5%, +1.5).
About 600 customer care employees offer assistance, information and security to all regional transport passengers, both aboard and on the platform prior to departure, for trains running during peak season and in stations with greater traffic flows.
The service, commencing in November 2018, introduced certain advantages to regional transport that were once the prerogative of the Frecce.
In recent months, passengers are also becoming familiar with the new regional trains Rock and Pop. From May to today, 28 new trains have been introduced to the tracks of Emilia-Romagna, with new trains set to be available to the commuters of Veneto, Liguria, Marche and Sicily by the end of the year then subsequently to all other Italian regions. Rock and Pop are part of a maxi supply of 600 new regional trains, seeing a total economic investment of six billion euro to guarantee the renewal of 80% of Trenitalia's entire regional fleet.
New trains and more. Trenitalia has always been attentive to people's needs, hence why it favours intermodality with differentiated services that meet passengers' mobility needs. These include connections to airports such as the Ciampino AirLink and Treviso AirLink. This encourages a modal shift from private vehicles to integrated rail/road solutions, facilitating smart travel and ticket purchasing and encouraging passengers to leave their private vehicle at home to opt for public transport that is more convenient, safe and sustainable. This permitted an increase to the number of people who chose the regional train also for trips on weekends and holidays.
Regional transport by rail records a growing trend, confirming the FS Group's constant attention to the needs of the 1.5 million people who travel on Trenitalia trains each day. Moreover, these results underline that regional and metropolitan transport as a whole is the lynch pin for all of the Group's activities and is at the heart of the 2019—2023 Business Plan.