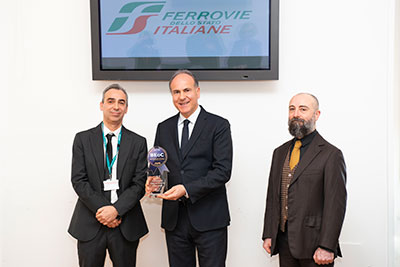 Rome, 29 January 2019
FS Italiane Group has taken first place in the ranking of companies which are most sought after by young graduates for the fifth consecutive year.
Best Employer of Choice 2019, a survey by the Cesop HR Consulting Company has again confirmed that FS Italiane holds first place in the ranking of industrial and production companies that are best liked as places to work, a recognition assigned to FS Italiane every year since 2015. The research takes into account a sample of 2,500 recent graduates, who are statistically representative of the population as a whole (by gender, geographic area and type of degree), who assessed 100 Italian and multinational companies. Innovation, solidity and vision, together with know-how and technological excellence, which are also recognised internationally: these are the qualities that have led FS Italiane once again this year to beat important Italian and international companies that have always been very popular with young people, such as Google and Ferrero which came in second and third respectively.
"Leading the Best Employer of choice ranking for the fifth consecutive year is a responsibility and an honour for FS Italiane," declared Gianfranco Battisti, the CEO and General Manager of FS Italiane Group. "FS Italiane Group is constantly committed to offering young people professional opportunities to get involved in the company. To continue to grow as a business, we need talent that is able to create value and innovation, which are fundamental for our business. We will be putting an ever-increasing emphasis on people as being at the centre of our processes in our new business plan, always focusing on merit, efficiency and excellence."
"We address young people using tools, channels and language which are relevant to them, with constant web and social recruitment work, and through involving them in innovative and ambitious projects such as #FSRecruitingday – MoveYourTalent," explained Riccardo Pozzi, Group HR Director at FS Italiane. "This is the outcome of the great commitment made by the Group to promote a continuous and direct dialogue with graduates from throughout Italy so as to orient them towards career paths which are best aligned with their attitudes and to grab the talent to be employed in the company using criteria of merit and transparency."
FS Italiane is in the first line in developing opportunities for new graduates. The Group has for some time been developing initiatives and courses (master degree courses, an academy, advanced training schools), in association with excellent universities and schools, to bring the company closer and offer guidance to young people in developing strategic and multi-disciplinary skills for business. The company invests significant effort into this on a daily basis promoting these through continuous and direct dialogue with young people throughout Italy: the company meets eight thousand young men and women every year during job meetings and career days, as well as seminars and company presentations led by a network of FS ambassadors.
In December the Group's #FSRecruitingDay meant that we were able to pick, with jobs starting this year, twenty young graduates in engineering (electrical, electronic, mechanical, telecoms and management) and industrial design. Four thousand new people overall from throughout Italy will join the company.