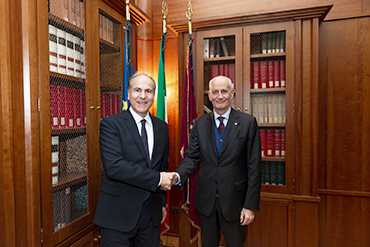 Rome, 16 January 2019
Today in Rome the agreement between the Polizia di Stato (Italy's national police force) and the Ferrovie dello Stato Italiane (Italian State Railways) was renewed for the prevention and obstruction of cybercrimes, with a focus on electronic systems and services of particular importance for the country.
Amongst these, the technological platforms of the FS Italiane Group, one of the largest industrial companies in the country, which manufactures and oversees rail transport works and services, helping in the development of a mobility project and integrated logistics.
The convention, signed by the Chief of Police-Director General of Public Safety, Franco Gabrielli, and the CEO-General Director of Ferrovie dello Stato Italiane, Gianfranco Battisti, falls within the framework defined by the directives issued by the Minister of Interior aimed at strengthening the preventative measures in the field of cybercrime through the enhancement of the partnership with the private world.
The insidiousness of cybersecurity threats and the evolving means by which they arise require an informative synergy between all cybersecurity players to combine knowledge and experiences of use in experimenting with effective forms of obstruction.
For the Polizia di Stato (Italy's national police force), this task is ensured by the Polizia Postale e delle Comunicazioni (Postal and Communications Police) and, in particular, by the Centro Nazionale Anticrimine Informatico per la Protezione delle Infrastrutture Critiche (the National Anti-Crime Computer Centre for Critical Infrastructure Protection) which, operating 24 hours a day, represents the point of contact for the management of critical events concerning infrastructure of national importance, functioning in sensitive sectors for the country.
In respecting its regulatory obligations, Ferrovie dello Stato Italiane has also launched a significant internalisation process regarding IT security services thanks to the implementation of the Cyber Security Operation Centre. This hub of excellence unites the most advanced technologies and competences with the aim of providing the highest level of cyber protection to the technological and information systems supporting the management and control of rail traffic.
Also present at the signing of the convention were representatives of the Department of Public Safety, the Central Director for the Traffic, Railway, Communications Police and for the Special Departments of the Polizia di Stato, Roberto Sgalla, and the Director of the Polizia Postale e delle Comunicazioni, Nunzia Ciardi, whilst representing the Ferrovie dello Stato Italiane were the Central Director of Corporate Protection, Franco Fiumara and Head of Cyber Security, Riccardo Barrile.