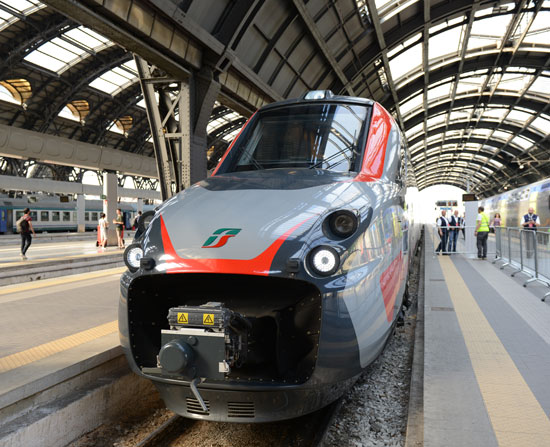 Bari, 19 September 2019
Trenitalia's new Frecciargento 700 dedicated to the Adriatic line was presented today at the Bari Centrale station.
The train will improve connections and services between Apulia, the resorts of the Adriatic line, Milan, Turin and Venice, replacing the routes currently undertaken with the Frecciabianca and offering passengers greater comfort and more services aboard the train. Additional attention is being paid to those who opt for the train to and from Puglia, who can now count on over 17,000 places available each day on the route between Milan, Bologna and Bari, with 20 Frecce, 10 InterCity and 6 InterCity Notte.
The first trip between Bari and Milan, via the Adriatic coast, with the new train will be completed on Sunday, 29 September, departing at 3:35 pm from the capital of Milan. That heading north, with departure from Bari, is scheduled for 5:32 am the following day, on Monday 30 September. Both trains will continue to stop at the same stations as the current Frecciabianca, thus serving the cities and territories that already availed of these connections (with stops in Puglia in Foggia and Barletta) and offering additional services and high standards of quality and comfort for those travelling.
The introduction of the Frecciargento 700 is part of a broader plan to upgrade the connections and services between Milan, Turin and Venice towards the Adriatic line. Within the first semester of 2020, 17 new convoys will be introduced in order to significantly improve the connections between Milan, Bologna, Venice and Puglia (through to Lecce and Taranto). There are also enormous benefits for environmental sustainability—Trenitalia aims to encourage increasing numbers of people to opt for the train as an ecological means of transport par excellence and the new Frecciargento 700 will give an additional push towards this modal shift.
Trenitalia's Long Haul Director, Paolo Attanasio, illustrated the technical characteristics and innovations of the new Frecciargento 700 to the institutions, trade associations and citizens.
Amongst the services available to travellers aboard the Frecciargento 700 are the FRECCIABistrò carriage for all customers, the welcome drink in Business and Premium and the Frecce portal with films, cartoons, news and so much more. In addition, Wi-Fi Fast has been installed, being an innovative multi-operator system for fast and stable navigation. The technology facilitates aggregating the bandwidth capacity of multiple 3G and 4G telephone operators, allowing passengers to navigate at a higher speed and in a more stable and continuous manner.
The choice of Trenitalia (Italian FS Group) to revitalise the fleet with new, better-performing trains is one of the actions aimed at satisfying the travel needs of each passenger, for metropolitan, high-speed and medium- and long-distance journeys.