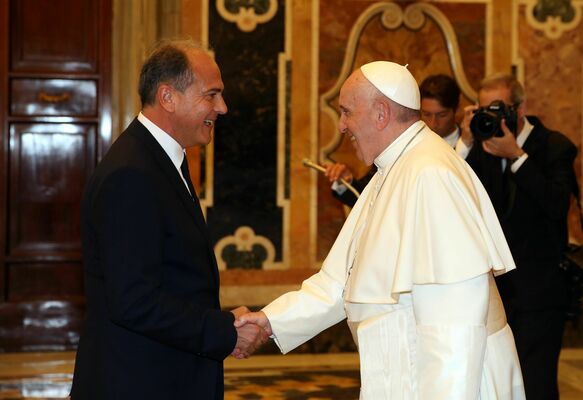 Vatican, 16 September 2019
More attractive, sustainable and supportive. These are the qualities that Pope Francis wished for the Ferrovie, addressing CEO Gianfranco Battisti, the employees and managers of the Ferrovie dello Stato Italiane Group during today's visit.
In his speech, Pope Francis explained: "The Ferrovie dello Stato are a fundamental means of transport and connection for the country, along with representing a support and incentive for economic and social development. They constitute a capillary articulation that unites the various areas of the country [...], encouraging the exchange of people and freight, experience and knowledge, culture and wealth."
Continuing, the Holy Father defined the High Speed—the first decade of which the FS Group celebrates this year—as: "a public work of strategic importance, which [...] offers thousands of passengers a service of remarkable quality each day." In the Clementine Hall, the Pontiff recalled the progress made and the innovations introduced by the Ferrovie dello Stato in recent years.
He then described in detail the three qualities of the Railways of the future: