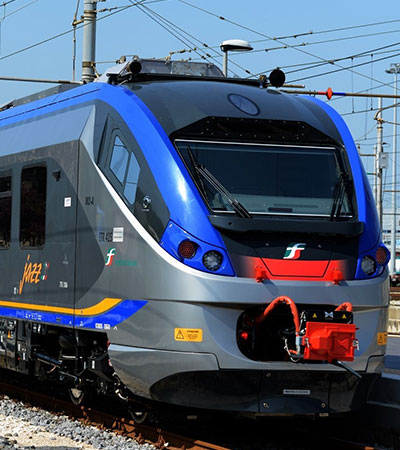 Salerno - Naples, 31 July 2019
The first phase has ended in the project to renew the fleet for the relaunch of commuter transport run by Trenitalia, the FS Italiane Group company, in Campania.
The delivery took place today of the 24th Jazz train to the Region, with the inaugural journey from Salerno to Naples. Campania will thus have use of the regional fleet with the most Jazz trains in Italy.
On board the train were the President of the Campania Region, Vincenzo De Luca, and the CEO of Trenitalia, Orazio Iacono.
Also present were the President of the Commission for Town Planning, Public Works and Campania Region Transport, Luca Cascone, the Director of Trenitalia's Regional Passenger Division, Maria Giaconia and the Director of Trenitalia for the Campania Region, Pietro Diamantini.
With an exceptional level of comfort, safety, reliability and accessibility that allows a new travel experience, the Jazz trains are set to mainly be used in the metropolitan and suburban areas of Naples and on lines connecting the city with Salerno and Caserta.
The modernisation of the fleet also offers significant advantages in terms of comfort, regularity and journey security in the region, as well as improving realised punctuality levels: since January, over 92% of the trains have arrived within five minutes of the scheduled time, with no reasons for delay excluded, and with a four per cent improvement on 2018.
The data produced by a third-party survey company also confirm that in the first months of the year there was a constant increase in overall journey satisfaction (at 78%, a 1.3% increase on 2018), an increase of nearly 3% in relation to cleaning and security reaching peaks of 78.3% (up 3.5%) in perception of comfort and 93.1% (up 2.4%) relating to on-board staff.
This improvement stems from an important review of the industrial processes and the organisational structure which handles regional transport in Campania. In addition to this is the activation of new services, including a dedicated customer care service for regional passengers, that allow the requirements of people who choose the train to get around to be identified and met.