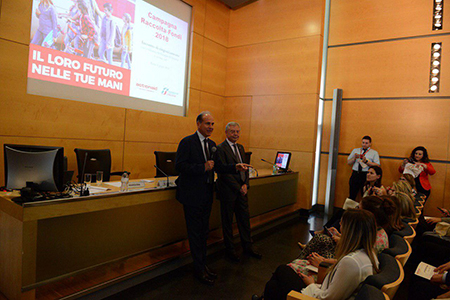 Rome, 6 June 2019
As part of the Christmas fund-raising, this year the FS Italiane Group supported the ActionAid campaign, "Il Loro Futuro Nelle Tue Mani" ("Their Future in Your Hands"), an initiative aimed at combating educational poverty and guaranteeing quality schooling.

Since 7 December 2018 and continuing throughout the entire following month, 206 volunteers (of whom 121 are FS Group employees), boarded regional and Frecce trains, informing people about the phenomenon of school dropout rates in Italy and offering passengers a block of Altromercato chocolate in exchange for a minimum donation of 3 euro.
Today at the FS Italiane headquarters, special recognition was given to the volunteers who took part in the fundraiser. "Thank you for all you have done," underlined Gianfranco Battisti, CEO and Managing Director of FS Italiane. "With the amount raised, many initiatives will be undertaken to combat school drop-out and to not undermining the human capital of youths."
Fundraising will end in August. Indeed, it is still possible to make a contribution through Trenitalia's self-service ticket machines.