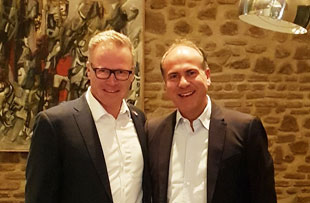 Rome, 3 October 2018
If we export our know-how to non-European markets in partnership with private operators in the field of railway engineering and technology, as a railway transport company, Europe is the competitive arena in which we want to consolidate our leadership.
With this context in mind a meeting took place in Rome between Gianfranco Battisti, CEO and General Manager of Ferrovie dello Stato Italiane and Andreas Meyer, CEO of SBB.
The aim was to consolidate cooperation between the two companies to improve international offerings in passenger and freight transport.
The meeting between the two CEOs sought to confirm the positive results achieved following the opening of the Gotthard Base Tunnel which in the last year saw a 3.4% increase in the number of passengers.
As far as international transit traffic is concerned, the new tunnel is an important first step towards the completion of a railway through the Alps, and will considerably increase competitiveness of rail transport and reduce the travel time between Zurich and Milan.
The Gotthard Base Tunnel allows goods and people to be transported more quickly and reliably on the north-south axis. Thanks to faster, more frequent and more comfortable connections, as well as the introduction of new and upgraded rolling stock, quality on the North-South axis will continue to improve.
The meeting between Battisti and Meyer strengthens the collaboration and cooperation of our Group with SBB for the next few years, a relationship that will contribute to further strengthening the integration of the entire European railway system.