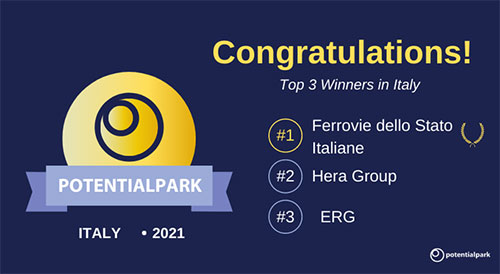 The FS Group also topped the ranking of Potentialpark – a Swedish talent communication company – for the management of the online candidate experience and for the commitment to maintaining a constant dialogue with candidates.
Also in the research for the 2021 edition, Potentialpark has listed four topics: Careers Website, Online Application, Social Media and Mobile Platform. These rankings, once tallied, constituted the general classification for awarding the best Italian companies able to attract new talent.
From amongst the 60 companies examined, FS Italiane took out first place in the general ranking for best online job search experience, gaining five positions compared to last year in the online application, for which it conquered the pole position. The website www.fsitaliane.it/lavoraconnoi also won second place in the Careers Website category.
Another important milestone came with the FS Group obtaining the highest recognition for communications on recruitment through social media profiles and for its recruitment site, judged as mobile-friendly.
Employer branding and talent acquisition sectors evolve at a fast pace hence why Ferrovie dello Stato Italiane continues to work towards strengthening both the methods of recruiting, with the aim of optimising the talent acquisition processes, along with the collaborative relationships and partnerships with the most prestigious Italian universities.