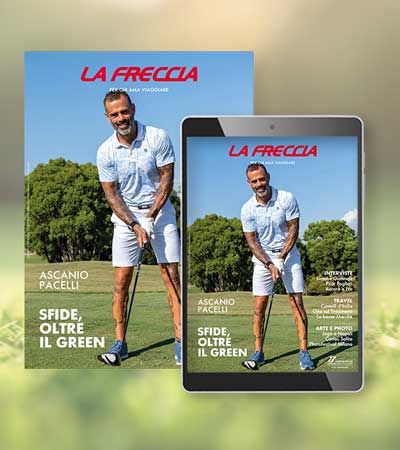 There are many challenges that await us in the coming weeks and at the end of this summer that hints of autumn. Sports but also environmental, economic and social challenges. The September La Freccia, together with the many travel proposals, offers a panorama that takes its cue from the Ryder Cup, the international golf tournament where the best European specialists go up against the US in two continental teams. Ascanio Pacelli, spokesperson and president of the association of Italian professionals in this sport, tells us about it. The cup will be held for the first time in Italy, on the outskirts of Rome, from September 29th to October 1st.
Sport and competition are also at the heart of the life of Simone Giannelli, captain of the men's national volleyball team who, until September 16th, will be involved in the 2023 European Championship, of which Trenitalia is the Official Green Carrier.
In addition to the sporting events, La Freccia recounts even harder challenges, those related to sustainability, environmental and social issues. These issues will be addressed at the Corporate Social Responsibility and Social Innovation Expo, bringing together 280 companies in Milan between October 4th and 6th and including FS Italiane, a project partner since 2016. Also in the Milanese capital, one of the projects resulting from the memorandum of understanding between the Ministry of Justice and the FS Group deserves a special mention, which will allow some inmates of the Opera prison to work in railway stations and offices. Instead, the Beltrame group aims to accelerate the transition to green industry, committed to reducing CO2 emissions thanks to Chalibria, a carbon neutral certified steel.
What's more, as always, the travel ideas and stories, which let readers discover the country's ancient fortresses, the municipalities around Lake Trasimeno, the routes of the Abruzzo transhumance, the unusual Persian traditions in Lecco. And, again, the lower Marche, closed between the Adriatic and the Sibillini mountains, to be visited by train and bicycle, among Art Nouveau villas, rolling hills and ancient villages.