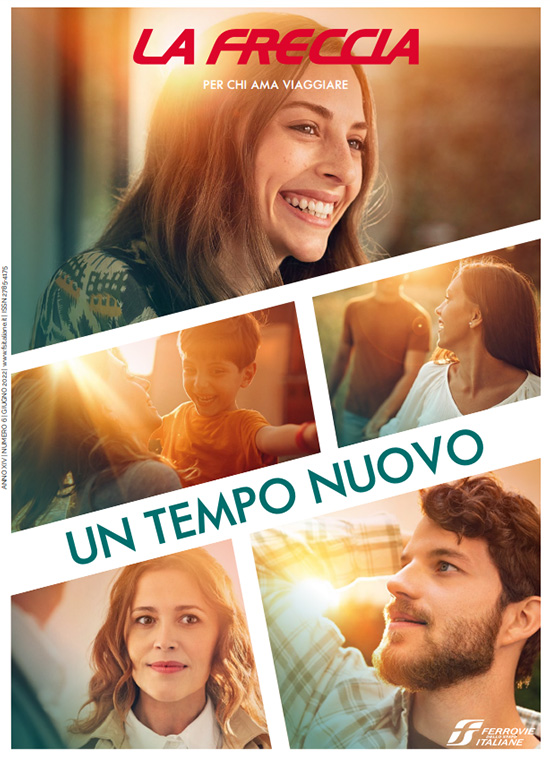 Milan, 31 May 2022
Un Tempo Nuovo – A New Time - is emblazoned on the banner of June's La Freccia, online today and available on trains shortly. This is also the slogan that elucidates the institutional campaign launched by the FS Group with the launch of the 2022-2031 Industrial Plan. This Plan certainly focuses on the industrial and strategic objectives and investments in infrastructure over the next 10 years, whilst also aiming towards a change in mentality and cultural approach that will mark a sort of watershed following the pandemic and in view of new geopolitical dramas. And La Freccia also, right from the editorial that opens the issue, invites its readers to look at the world with different eyes, to imagine the future with confidence. To aim for lightness as a value, to be conquered through solid tools. Finding our own way of living, each at our own personal pace. Constructing a human time, which humanises technology and puts people at the centre.
And it is precisely people who are the focus of this issue of the magazine, which seeks – as always – to see readers travel along the accessible pathways mapped out throughout Europe by Free Wheels to help anyone face their limits; perched on vintage bicycles, riding amongst the hills, white roads and flavours of the Siena area with the Nova Eroica historical cycling tour; discovering noble and artistic residences scattered between Rome and its province.
It is in the name of lightness that we travel through the festivals and tours of major national and international artists, from Muse to the Chemical Brothers, Placebo to Måneskin, who return to brighten the Italian summer.
But we also move through the history of Italy, to remember the 30th anniversary of the Capaci massacre, in which Judge Giovanni Falcone, his wife and security escort lost their lives, through the words of writer Roberto Saviano.
Amongst the many protagonists of this New Time are Alba Di Leone and Chiara Naro, the two Policlinico Gemelli researchers awarded a prize by the FS Group for an innovative tool for investigating women's cancers. Then there is showman Paolo Belli, the Brazilian singer-songwriter Marisa Monte and TV presenter Massimiliano Ossini.
Still, La Freccia does not forget those forced to leave their homeland to save themselves, with a report on the war in Ukraine in the month of World Refugee Day, celebrated on 20 June.
The June La Freccia can be browsed and read in digital format, on FSnews, and on paper on Trenitalia's Frecce, in the FRECCIALounge and FRECCIAClub, each copy cellophaned and personal, for readers to pick up and take away. The contents of FS Italiane's monthly publication can also be read on the FSNews Telegram channel and the Twitter profiles @fsnews_en and @LaFreccia_Mag.