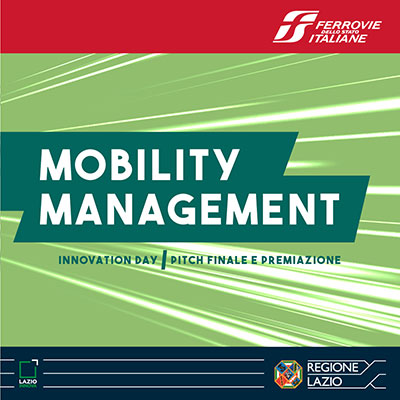 Rome, 18 September 2020
The new challenge of "FS Mobility Management – promoting sustainable mobility for home-work travel for Ferrovie dello Stato Italiane Group employees" has been launched, focusing on young companies and innovators by the FS Italiane Group, Regione Lazio and Lazio Innova.
Amongst those attending Innovation Day, held in digital mode due to the COVID-19 health emergency, were: Nicola Tasco – President of Lazio Innova, Danilo Gismondi – CEO of FSTechnology, Anna Maria Morrone – in charge of Recruitment, Development and Training for Ferrovie dello Stato, Giovanni Rotella – Human Resources Manager for Ferrovie dello Stato Italiane, and Luigi Campitelli – Operations Director for Lazio Innova.
The teams participating in the pitch battle benefited from a path of mentorship to define their business proposal, along with experts from Lazio Innova and FS Italiane Group.
The five finalists in the race to have presented a mock-up and demo of their solutions were:RIDE MOBILITY – electric scooter and smart rack;

QUICK BUS – corporate buses and bus-sharing;
URBAN GO – AI platform to promote sustainable home-work travel;
VIP2ZIP – Voluntary Carbon Credit platform;
MUV – gamification to stimulate sustainable mobility behaviours.
First prize went to URBAN GO, receiving the 10,000 euro awarded by Lazio Innova together with a range of specialised services. As second and third runners-up, RIDE MOBILITY and MUV will receive a variety of expert services pertaining to patenting and contractual protection along with legal, fundraising, marketing and communication aspects.
The initiative is part of the strategic Lazio Region's Open Innovation programme and is the fifteenth challenge undertaken to date, with the aim of connecting big businesses with the creativity and expertise of young talents and startups. The challenges have already involved 108 innovative projects supported through a mentorship programme, concretising at least 15 imported trade agreements, trials and joint research projects.