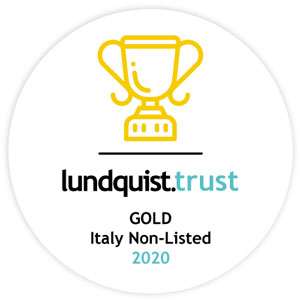 The second edition of the .trust study, conducted by strategic consulting firm Lundquist, sees FS Italiane among the three best Italian companies able to clearly and maturely express their identity through transparent digital communication on fsitaliane.it.
As many as 84 corporate websites of the same number of unlisted Italian companies were analysed based on two fundamental aspects: substance, indicating whether the company is transparent with respect to its stakeholders and presents the most important information in a clear and concrete way; and distinctiveness, highlighting effective storytelling and user involvement on key issues, using different digital formats and providing a pleasant user-experience.
Classed in the Gold category, FS Italiane stood out as a virtuous example for communication linked to strategic objectives. Within the Group's corporate website, the contents are linked to our mission, highlight concrete actions and describe the interconnection with sustainability issues as well as trending issues.
Anas, FS Italiane Group, also achieved an excellent result in the study, coming under the Bronze category. In particular, it was recognised for its winning approach in building its own identity by combining it with a well-defined strategy.