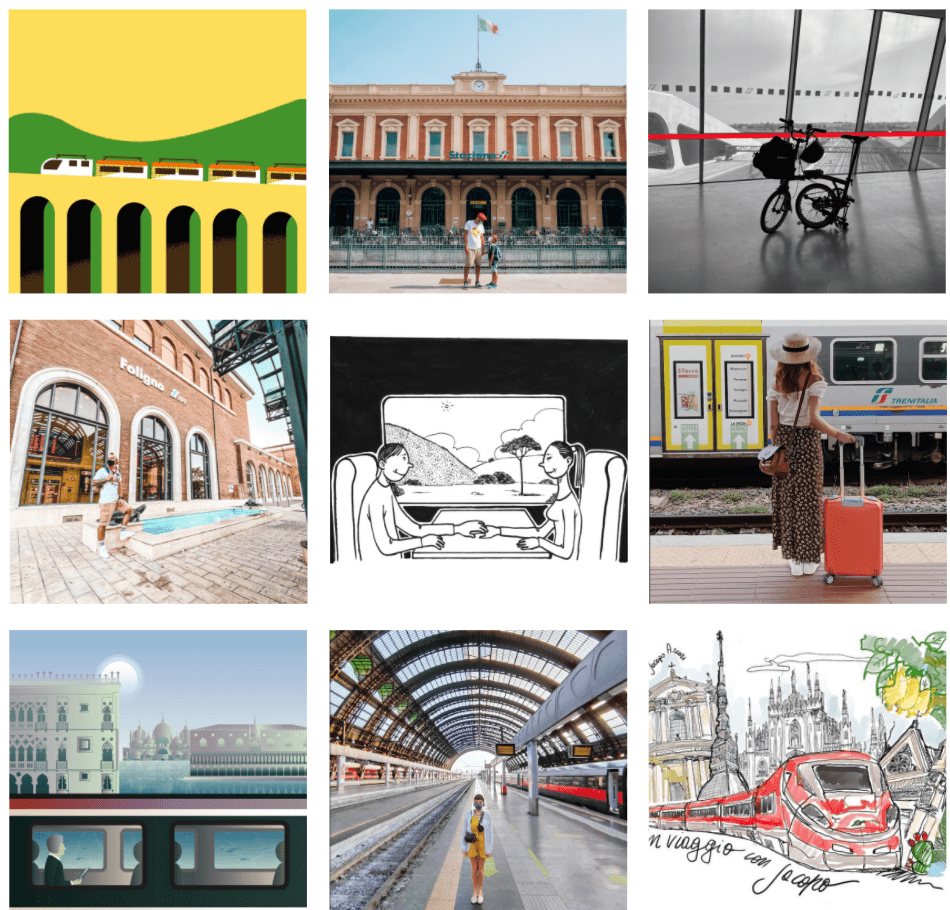 5 October 2020
Summer is over and so FS Italiane's digital project titled "Il mio viaggio in treno tra arte, bellezza e sostenibilità (L'Italia riParte)" – or, My journey by train amidst art, beauty and sustainability – is set to be recounted on RailPost.it. The grand final will be held on Tuesday, 6 October in celebration of 10 years of Instagram.
The season just passed was spent entirely focusing on Italy, as a rediscovery of the charming towns and villages, with a renewed sense of wonder towards the stupendous cultural and natural heritage of Italy.
#ilmioviaggiosostenibile, in collaboration with Giubilarte, has formed a fantastic team, combining artists and influencers with a desire to explore the most fascinating Italian itineraries – train ticket in pocket – using the most sustainable and safe means of transport. This enchanting train took us all over the Peninsula, to the beating heart of our territories on am up-close discovery of the Italian wonders, including the most hidden.
Thousands of interactions and posts have been published and the dedicated hashtags #ilmioviaggiosostenibile, #railwayheart, #fsitaliane as indicators of an extensive community that gathers around the train day after day. Illustrators, photographers, travel bloggers and video-makers have shared fragments of their travels on Facebook and Instagram, offering us a privileged perspective of a country relaunching through sustainable and proximity tourism, guided by the physical social network par excellence: the train.
A season of resuming with strength and enthusiasm, to enhance the art and beauty of the Italian cities and the characteristic villages that trace the profile of a territory to be rediscovered and protected through sustainable actions and the creation of shared value.
Then, on 6 October, the FS Group's blog Railpost.it and the Railpost FS Facebook and @fsitaliane Instagram profiles will present a veritable marathon of content dedicated to this all-Italian summer, reliving the stories and sensations of Il Mio Viaggio In Treno amongst art, beauty and sustainability – L'Italia riParte.
The focus is on influencers once more, retracing their travel stories, the kilometres travelled and cities reached with a look to slow tourism, a theme that will be revived throughout the month of October with the Giro d'Italia (with Trenitalia as Official Green Carrier) and the presentation of the new regional Blues train.
See all of the #ilmioviaggiosostenibile stories and take part in the digital marathon on Facebook Railpost FS and @fsitaliane on Instagram.