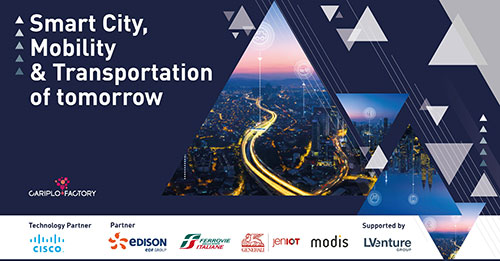 Designing an intelligent, integrated and interconnected city of the future: from 12 July, the initiative "Smart City: mobility & transportation of tomorrow" gets under way, being a call for ideas dedicated to startups with a focus on the concept of smart and sustainable mobility.
The project, curated by Cariplo Factory, unfurls as a pathway of innovation, aiming to enhance the ideas of startups and young innovators thanks to interactions with the great players in the sector.
Proposals can be submitted until 15 September 2019. The best ideas will then be the protagonists of Matchmaking Day on 16 October, where startups will be able to meet with innovation professionals and top managers of the companies involved.
The thematic areas on which the startups are called to present projects are:
City Logistics: improving logistics, especially for the last mile.
Mobility of people: devising new systems of shared and sustainable mobility, not only private but also corporate.
Information management: solutions for handling mobility data.
Living & Building: optimising smart commercial and residential buildings in order to improve air quality, especially in critical urban areas.
Ferrovie dello Stato Italiane is a partner of the initiative, together with Cisco, Edison, Generali and Modis, and confirms the Group's commitment to enhancing innovation.