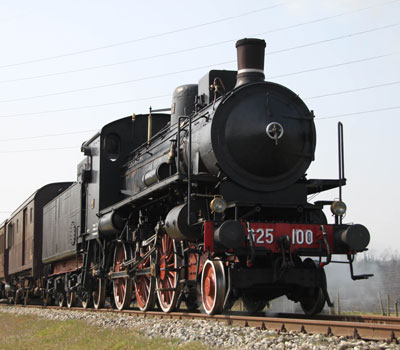 Trieste, 4 May 2019
The construction site for the restoration of the Trieste Campo Marzio Railway Museum is ready to go.
One of the most ambitious Fondazione FS Italiane projects takes shape, aiming to build the second largest National Railway Museum right in Trieste, second only to that in Pietrarsa.
Today's ribbon cutting, with a ceremony in the railway station's atrium, was attended by the President of the Friuli Venezia Giulia Region, Massimiliano Fedriga, who strongly pushed for the operations to commence, the Mayor of Trieste, Roberto Dipiazza, the President of the Fondazione FS, Mauro Moretti, and General Manager Luigi Cantamessa.
The project was devised at the end of 2016, with the initial feasibility study for the redevelopment and restoration of the site resulting in a Memorandum of Understanding, signed in the summer of 2017 between the Ministry of Cultural Heritage and Activities, the Autonomous Region of Friuli Venezia Giulia, the Municipality of Trieste, Ferrovie dello Stato Italiane, Rete Ferroviaria Italiana and the Fondazione FS Italiane to have defined the common strategies.
The redevelopment works will be split into three phases: the first and second - with an investment of 6.5 million euro - have already been entirely financed by the FS Italiane Group, MiBACT and the Friuli Venezia Giulia Region - entailing the restoration of the entire area facing Via Giulio Cesare and the redevelopment of the elegant interior spaces that will house the new Railway Museum.
The third and final phase - with an investment of circa 12 million euro yet to be financed - involves the completion of all operations, the construction of a railway-themed hotel (the first in Italy), a terrace overlooking the gulf and the restoration of the vault surmounting the tracks, dismantled in 1942 for military purposes, with the aim of creating an expansive covered courtyard for cultural events and exhibitions.
Upon conclusion of the redevelopment works, Fondazione FS will directly manage the Trieste Campo Marzio Railway Museum, also making use of the contribution of the aficionado association of the same name. Together, Pietrarsa (which alone registered 170,000 visitors in 2018) and Campo Marzio will constitute a museum system of excellence and of international importance.
The total investment is of 18.5 million euro.