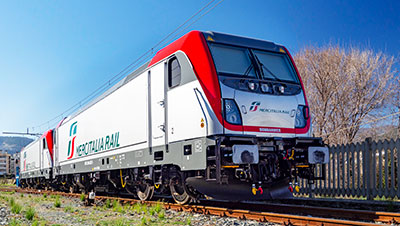 Rome, 8 March 2019
The first of 40 new TRAXX E494 electric locomotives, built at the Bombardier Transportation Vado Ligure (SV) plant, was delivered to Mercitalia Rail, Italy's most important rail freight company and one of the leaders in Europe.
The new locomotive, and the subsequent delivery plan, were unveiled today in Rome by Enrico Pujia General Manager - Directorate General for Transport and Railway Infrastructures of the Ministry of Infrastructures and Transport, Marco Gosso Managing Director of Mercitalia Logistics and Gian Paolo Gotelli Managing Director of Mercitalia Rail.
Marco Gosso, Managing Director of Mercitalia Logistics said "The new locomotives together with the interoperable ones already ordered by TX Logistik (the German Polo Mercitalia company operating in major European countries) constitute our biggest investment. It is an investment worth a total of around 400 million euros, which will enable us to renew about one third of our owned locomotive fleet in the next two years, ensuring we can offer our customers greater transport capacity and more reliable and punctual services".
The new TRAXX E494 locomotives are part of the contract signed in December 2017 between Mercitalia Rail and Bombardier, for the delivery of five locomotives a month, with supply completed by October of this year and the option of an additional 20 units in the following months, for an investment of around 180 million euros.
The vehicles will have a maximum traction power of 6.4 MW and a traction force of 320 kN and will allow Mercitalia Rail to offer its customers superior technical freight trains compared to current models, ensuring the highest standards of driver comfort and safety.
Furthermore, with their automatic braking and innovative "Eco-mode" systems, these locomotives will have significantly lower energy consumption levels than the current standards.
Finally, Bombardier will also oversee the locomotives' maintenance for a period of eight years, ensuring maximum availability and operating efficiency.