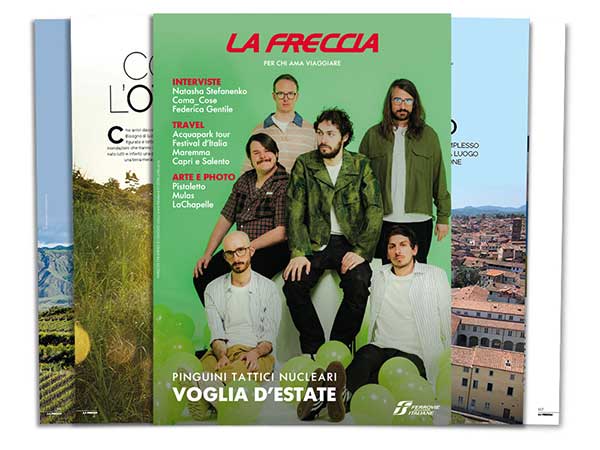 Rome, 5 June 2023
June's La Freccia accompanies readers into the fast-approaching summer with content gleaming with sunshine, warmth and lightness. These qualities are also well suited to Pinguini Tattici Nucleari, a band from Bergamo that, on 7 July, kicks off a tour of Italian stadiums, with Frecciarossa as official train.

Summer is enjoyed to the beat of music. In addition to the concerts of the group led by Riccardo Zanotti, many festivals are planned for the coming months from Milan to Sassari, with a programme ranging from Bob Dylan, the Red Hot Chili Peppers, Malika Ayane to Florence + The Machine.
From Cinecittà's Acqua World to Gardaland's Legoland Water Park, Italy's most famous water parks also reopen for the warm season, offering adrenaline-filled slides and educational adventures. Amongst the perfect destinations to visit during summer are the Maremma dominated by the village of Pitigliano set in tuff, the island of Capri in the Gulf of Naples that delights with its hidden treasures, and Salento with its ancient watchtowers scattered along the coastline.
Not to be forgotten is art. In Rome, an exhibition sums up the poetics of Michelangelo Pistoletto on a journey spanning 60 years of creativity and 90 years of life. Venice pays tribute to Ugo Mulas 50 years after his death, with 300 shots by the photographer who spent his life documenting the work of painters, writers and sculptors. Finally, the pop and surreal images of David LaChapelle are on display in Trieste.
There is no shortage of interviews, one with the duo Coma_Cose, who are preparing for the season's live shows. Singer-songwriter Renzo Rubino is ready to set sail with his Porto Rubino festival, with speaker Federica Gentile, grappling with the Radio Zeta Future Hits festival, and with presenter Natasha Stefanenko, who has published a book inspired by her life.
Finally, La Freccia reports on the awarding of the four winning short stories in the literary competition A/R Andata e Racconto. Appunti di Viaggio, devised by the Ferrovie dello Stato Italiane Group and the Turin International Book Fair and having stimulated the creativity of over 2,000 participants.