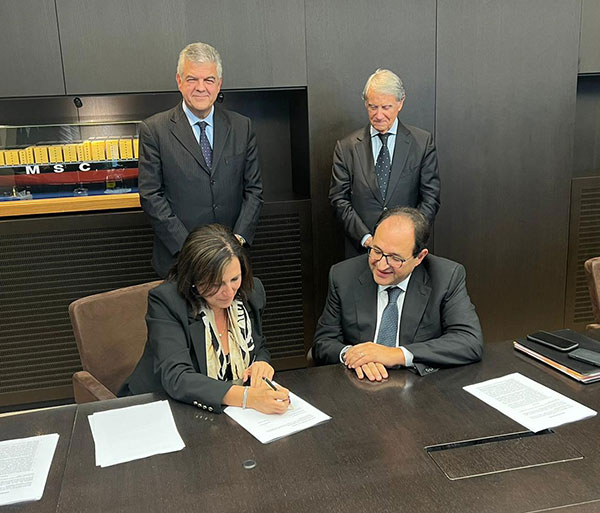 Rome and Geneva, November 15th, 2023
Developing intermodal sea and rail transport with greater and more effective synergies to expand the freight transport logistics network to and from Italian and European ports, with the creation of a Newco to build new terminals.
This is the primary objective of the Memorandum of Understanding signed in Geneva by Sabrina De Filippis, CEO of Mercitalia Logistics, leader of the FS Italiane Group's Logistics Business Division, and Giuseppe Prudente, Chief Logistics Officer of MSC and President of MEDLOG, in the presence of Luigi Ferraris, CEO of the FS Group, and Gianluigi Aponte, Chairman of the MSC Group.

"The Memorandum signed today with a major international partner, confirms the FS Group's commitment to becoming the European logistics player", commented Sabrina De Filippis, CEO of Mercitalia Logistics. "The agreement is part of the initiatives envisaged in our Business Plan, providing for the strengthening of existing terminals and the creation of new technologically advanced and low environmental impact multimodal hubs. This will enable us to increase the volume of goods transported by train, thanks to the increasingly effective connection of our ports and terminals to the national network and to European railway corridors, consolidating the integration of sea-rail-road transport systems."
The agreement provides for the establishment of a new company jointly owned by Mercitalia Logistics (51%) and MEDLOG (49%), an MSC Group company specializing in intermodal transport and logistics, to design, build and operate new cargo terminals at sites controlled by the two groups in Italy.