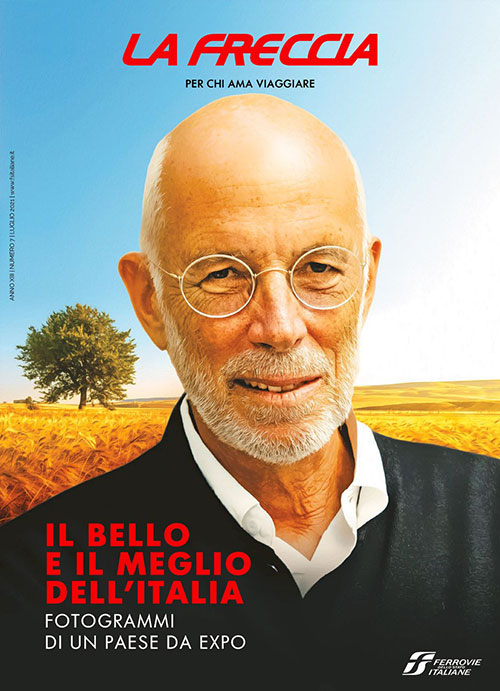 Rome, 1 July 2021
The July issue of La Freccia interviews Gabriele Salvatores who will bring the beauty and best of the country to Expo 2020 in Dubai, scheduled for 1 October. The Oscar-winning director, and protagonist of this month's cover, has been chosen to describe the regions, including the evocative landscapes and artisan crafts, in a video that will be screened in the Italian Pavilion throughout the duration of the event.
And the beauties of the territory are once again the protagonists of the magazine. You can slowly savour Le Marche with a regional train from Ancona to Ascoli Piceno, amongst the seaside, the jagged reliefs and pastel-hued houses. A freshly-minted guide, published by Giunti in collaboration with Trenitalia, suggests evocative destinations and train-friendly routes. We then stroll along Italy's most panoramic promenades, from Trieste to Salerno. You can even choose to spend an unforgettable night in a unique location, such as in a dream-worthy Trullo (dry stone hut), Malga (mountain cottage) or Baita (lodge).
Also not to be missed are the tasting itineraries between the Campania Apennines and the Daunia Mountains, the walk from Aquileia to Monte Lussari to cross Friuli-Venezia Giulia and the journey to discover Calitri in Irpinia in anticipation of the Sponz Fest directed by Vinicio Capossela.
The great open-air events are back. From the Classiche Forme festival in Salento, as told by its creator, pianist Beatrice Rana, to the concerts in the mountain resorts and the summer initiatives of the Auditorium Parco della Musica in Rome.
Space is given to news on the Tokyo 2020 Olympics, starting on 23 July following last year's postponement. To mark the occasion, La Freccia interviews sprinter Filippo Tortu and two representatives of the new disciplines to be part of the Games for the first time, skater Alessandro Mazzara and climber Laura Rogora.
Finally, even for this issue, there is no lack of traditional appointments with the worlds of information and books. The first – Medialogando – presents a new magazine titled La Ragione, which hit newsstands around a month ago, including a meeting with its director Fulvio Giuliani, whilst the second event – "Un Treno di Libri" ("A Train of Books") – talks about and offers a taste of the latest book from Bruno Vespa, "Quirinale".
The July La Freccia can be browsed and read in digital format on FSnews, and in hardcopy within the FRECCIALounge and FRECCIAClub, with each copy cellophaned and personal, for readers to pick up and take away.