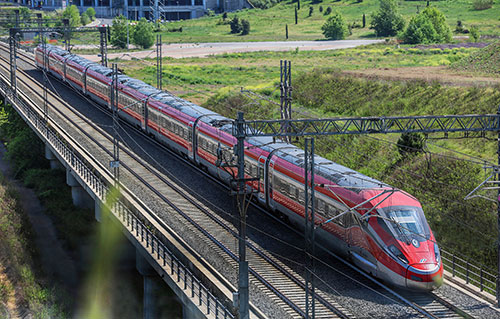 The connecting of various national and local transport systems through the digitisation of the mobility sector and managing the flow of big data sees railway stations amongst the protagonists of the new smart cities.
These are the ideas with which the FS Italiane Group, as a historical partner of Ecomondo, will participate in the 24th edition of the event, combined with Key Energy and scheduled from 26 to 29 October at the Fiera di Rimini.
Digital technologies are destined to have a profound impact on the future of mobility: Artificial Intelligence, the Cloud and big data will drive the new trends in the sector, including mobility as a service and intermodality.
FS Italiane aspires to drive Italy's recovery through value creation and contributing to an increasingly sustainable multi-modal mobility of people and goods.
Amongst the key events of the 2021 edition of Ecomondo are the General States of the Green Economy, which will be attended by Lorenzo Radice, as Sustainability Manager for the FS Italiane Group, in the plenary session on Wednesday, 27 October.
Public transport with zero emissions – the Motus-E Vademecum to accelerate the electrical transition is the panel scheduled for 11:00 am on Wednesday, 26 October, set to be attended by Luigi Contestabile, Head of Asset Advisoring and Service Development for Rete Ferroviaria Italiana.
Finally, Antonello Martino, as RFI Station Management, will speak at the panel Circular Economy: one aspect in the articulation of the value chains in the constructed environment supply chains, to be held on Thursday, 28 October at 9:30 am.
The FS Group will also be present with a stand in Hall D6 Smart City and Sustainable Mobility Area.