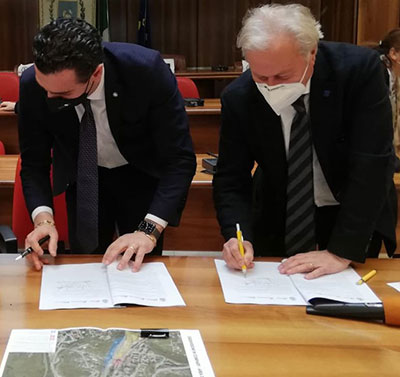 Avellino, January 28, 2021
Renovate and enhance some buildings and railway areas in the urban environment, promote mobility and growth in the area, encourage tourism.
These, in a nutshell, are the objectives of the document signed today by the FS Italiane Group and the Municipality of Avellino as a supplement to a Memorandum of Understanding signed in 2018.
The agreement was signed by Carlo De Vito, President of FS Sistemi Urbani, Valerio Giovine, Rete Ferroviaria Italiana Production Director, and Gianluca Festa, Mayor of Avellino.
The supplementary deed identifies five areas of intervention:
Rail/road interchange hub
Enhancement of the intermodal system for the integration of rail and road transport with renovation of areas facing the station and rationalisation of the spaces that will house a bus terminal, car parks with services for electric vehicles, car rental, bike and car sharing;
Historic Train
Restoration, maintenance and new use of existing structures to be used as premises for tourist and commercial services;
Station square
Renovation of the station square to be implemented with interventions on the mobility system as part of the project "Urban regeneration of via Francesco Tedesco - Borgo Ferrovia Porta EST for the Universiade";
Student dormitory
A university student dormitory, to be built in the building that once housed railway staff, to respond to the growing demand for accommodation by university of Salerno and Benevento students;
Station park
Creation of the Fenestrelle inter-municipal urban park system, for the renovation and enhancement of the area's natural and landscape resources thanks to over 5 km of cycle paths, 2500 metres of pedestrian paths, bridges and underpasses to allow the stream of the same name to be crossed.