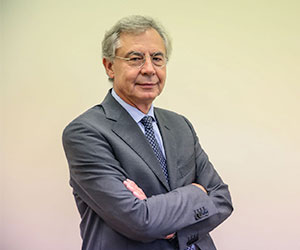 Rome, 26 November 2018
Development of infrastructures for rapid mass transport, implementation of digital technologies to facilitate travel by integrating more collective transport means, and more efficient stations for a mobility system focused on intermodality and digitization.
These are some of the topics discussed today in Rome by Gianluigi Castelli, President of the FS Italiane Group, during the 2018 Digital Italy Summit, the event dedicated to the digital transformation processes of companies, now in its third edition, organized by The Innovation Group in collaboration with Anitec-Assinform, Confindustria Digitale, Astrid Foundation, Maggioli Group, and Zetema Progetto Cultura.
«The development of railway and underground networks is a strategic factor in the integrated and sustainable mobility of the future, able to reduce levels of urban congestion and polluting emissions, with a positive impact on the quality of life and on the socio-economic integration between the centre and suburbs», stressed Castelli. «This is possible with the implementation of digital technologies that allow people to plan their trip by integrating multiple means of transport and facilitating transportation that, for a total of 82%, still takes place with private vehicles. Integrated mobility requires rapid mass transportation infrastructure and means that are comfortable, attractive, increasingly secure, effective, and cost-effective. Transport by rail has already anticipated the electrification path that is involving other means of transport and that allows a direct benefit from the growing share of energy produced from renewable sources with zero emissions. In this scenario, the railway and underground network is the backbone of the integrated mobility system of the future, thanks also to the new services made possible by digital technologies and to stations understood as the major hubs of a mobility system focused on intermodality.»
During his speech, the president of the FS Italiane Group also highlighted that technologies are already available to initiate this change. It is however necessary, as a country system, to continue actions to support infrastructural interventions to favour the most sustainable modes of transport, in particular rail transport, and policies to encourage intermodality and cooperation between operators.
In the transport of goods, which in Italy takes place for 92% by roads and only 8% by rail, it is of fundamental importance, for a more efficient and sustainable system, to create platforms for sharing electric vehicles, accessible to all operators, for "last mile" distribution that can contribute to reducing pollution in large cities."