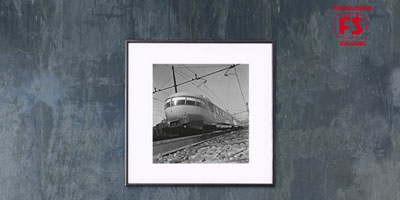 Rome. 25 September 2019

The emporium, available on the website shop.fondazionefs.it, is dedicated to the sale of Fondazione FS Italiane gadgets. By registering on the portal, you can make online purchases of the Foundation pins with the historical Italian railway logos, precious photographic prints with ancient trains, accessories for the home and for travel, along with railway-themed clothing.
In the coming weeks, the Deluxe section will also be introduced, offering exclusive gadgets reserved for the most exacting enthusiasts.
In addition, users subscribed to the newsletter will receive periodic updates on the new products included in the catalogue.
The site was created in collaboration with Franco Cosimo Panini Editore, a historic company specialised in art books and children's publications, having been operative in the field of services for museums and cultural institutions.
"The FS Italiane Foundation Emporium was founded with the aim of involving increasing numbers of people who are passionate about trains and the history of our railways," explains Luigi Cantamessa, General Manager of the FS Italiane Foundation. "As of today, everyone will have the opportunity to purchase a wide range of gadgets related to the style, culture and development of the Ferrovie dello Stato by conveniently connecting from their smartphone to the website shop.fondazionefs.it."
For more information about the new FS Italiane Foundation virtual store, please consult the website fondazionefs.it or the official brand pages on Facebook and Instagram.