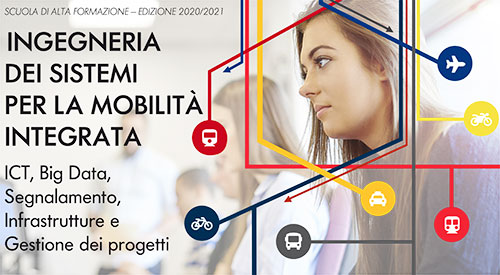 The Ferrovie dello Stato Italiane Group also reaffirms its collaboration with the University of Bologna Alma Mater Studiorum for the 2020-21 Academic Year, supporting the course in Systems Engineering for Integrated Mobility for the 4th consecutive year. Infrastructure, Signalling, ICT, Big Data and Project Management.
Scheduled from 18 January to 12 February 2021, the educational course delves into the fields of infrastructure and signalling systems, ICT technologies and methodologies of future applications in Transport, Big Data and Project Management.
Focused on undergraduates in the Master's courses listed in the Call for Admission and on recent graduates, having received their degrees in the previous six months, the School of Professional Training will operate for four weeks, totalling 130 hours. Workshops and educational visits to technological installations are also planned. The lectures, held by Professors of the University and managers of partner companies, are to be held in person in the classrooms of the University of Bologna (in the event that that the health emergency due to COVID-19 persists, teaching activities shall be ensured in remote mode).
The school is open to a maximum of 35 participants, with 20% of places dedicated to female students. Those interested must apply by 25 November and be available to take part in online interviews in early December.
This is a unique opportunity for all young people wanting to gain ground in the various fields of integrated mobility and to develop a multidisciplinary scientific approach in the transport sector.