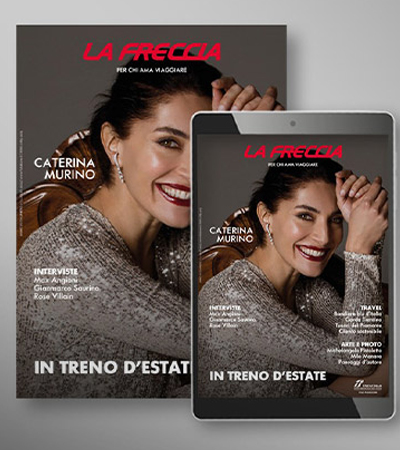 Rome, 3 July 2023
Actress Caterina Murino is the face of July's La Freccia. Selected as patron of the 80th Venice International Film Festival, she tells her story in detail. Describing herself as "a woman who never stops", she is committed to her profession, voluntary work and campaigns against animal abandonment. All these activities have long led her figuratively and literally to travel.
And travel, strictly by train, is the leitmotif of this issue, which offers readers the most beautiful summer destinations combining culture and nature in the name of sustainability. The first stop, recommended by Culture Minister Gennaro Sangiuliano, is the Archaeological Park of Pompeii, which can be reached directly from Rome by Frecciarossa as of 16 July. An innovation that combines the antiquity of one of the world's most famous archaeological sites with the modernity, tradition and comfort of the Ferrovie dello Stato Italiane's High Speed Railway.
Train and beauty are an inseparable pair, as is shown also by the numerous trips connecting Italian seaside and lake resorts awarded the Blue Flag for environmental quality, from Sirmione to Catanzaro via Orbetello.
But summer is also the ideal season to head to the mountains, to discover the panoramic rifugios of Garda Trentino, a destination for hikers and gourmands. Or to discover the tangible and intangible treasures of Piedmont protected by UNESCO, from the Savoy residences to hunting horns. Not to be missed is a stop in Pesaro for UlisseFest. Scheduled from 13 to 16 July, this travel festival has been organised by the Lonely Planet publishing house for the 50th anniversary of its foundation.
Art enthusiasts can take a trip to Tivoli, a short distance from Rome, to discover Villa Adriana and Villa d'Este as timeless places where beauty and nature come together in spas, nymphaea and gardens. The Italian landscape, understood as an identifying element of culture, is also the protagonist in the Capitoline exhibition organised by the Fondazione Alinari and the Museum of Contemporary Photography.
There is no shortage of interviews with big names from the worlds of culture and entertainment with artist Michelangelo Pistoletto, at the centre of an intercontinental project in the eight locations of Galleria Continua, cartoonist Milo Manara, protagonist of a solo exhibition in Bergamo, along with comedian Max Angioni, actor Gianmarco Saurino and singer-songwriter Rose Villain.