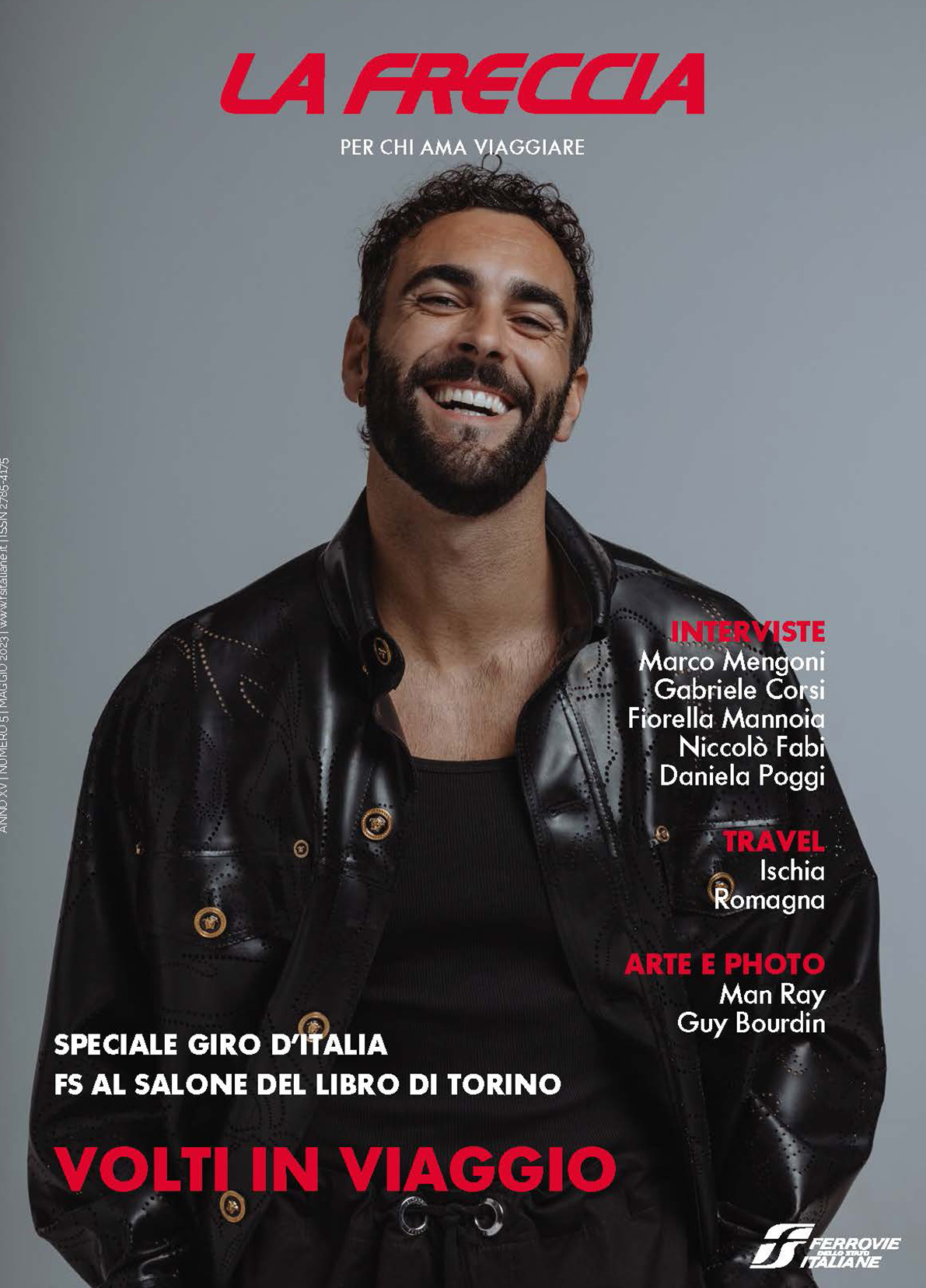 Rome, 2 May 2023
Marco Mengoni will be the face on the cover of May's La Freccia that will accompany Trenitalia passengers throughout the month. Winner of the 2023 Sanremo Festival with the song Due Vite, the singer – Italy's representative at the Eurovision Song Contest – is ready to get his motor running for the summer tour. Still, his is not the only face the magazine offers its readers. This edition also features singer Fiorella Mannoia, jazz musician Danilo Rea, radio and TV presenter Gabriele Corsi, actress Daniela Poggi and singer-songwriter Niccolò Fabi.
Three exceptional monickers also stand out amongst the pages: Mario Calabresi who narrates the podcast series Testa a Testa, focusing on the cities connected by high-speed trains; Enrico Franceschini with his Romagna, from the first mass holidays to Federico Fellini's films; Luca Gialanella, who accompanies readers along the 106th Giro d'Italia, of which Trenitalia is the Official Green Carrier, followed by the fifth edition of Giro-E, the e-bike event in conjunction with the Corsa Rosa.
Then it is on to Turin, where the Book Fair returns from 18 to 22 May, directed by Nicola Lagioia one last time. Amongst the innovations is the debut of the literary competition A/R Andata e Racconto. Appunti di viaggio, conceived in collaboration with the FS Group.
Amongst the destinations, Ischia stands out as the perfect place to regenerate mind and body, between dips in the ancient thermal baths, walks along nature trails and the pleasures at the table. We then continue on to Ronciglione in the Viterbo area, the set of unforgettable films and the recently-elected Borgo dei Borghi 2023. Then it is off to Aielli in the Fucino tableland, to admire the works painted on the façades of churches and buildings as well as one of the latest masterpieces by street artist Laika.
There is no lack of attention to all things green. Indeed, from 8 to 24 May, the Festival of Sustainable Development will stop in Bologna, Milan, Naples, Rome and Turin. This journey is in partnership with the FS Group to raise awareness about achieving the goals set by the UN 2030 Agenda.
There is also talk of art with the (more than) 300 works by Man Ray – the undisputed artist of the avant-garde of the 1920s and 1930s – on show until 9 July in Genoa. Guy Bourdin's shots, rather, include iconic images and advertising campaigns, on display in Milan until 31 August.
All this and more is in the May issue of La Freccia magazine, which can be browsed and read in digital format, on FSNews and on paper on Trenitalia's Frecce, in the FRECCIALounge and FRECCIAClub, each copy cellophaned and personal for passengers to pick up and take away. The contents of FS Italiane's monthly publication can also be read on the FSNews Telegram channel and the @fsnews_it and @LaFreccia_Mag Twitter profiles.